Home
SEPAROVIC "NO LONGER ELIGIBLE" TO REPRESENT MARKAC
Confirming the last week's finding that Separovic was in a conflict of interest, the Trial Chamber concludes that Miroslav Separovic, attorney from Zagreb. is "no longer eligible" to represent General Mladen Markac, ordering the accused to immediately engage new counsel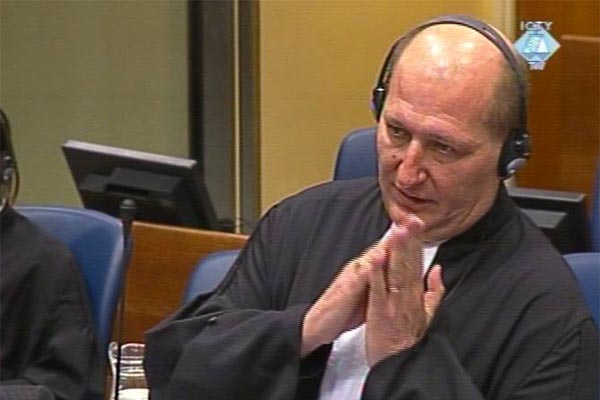 Miroslav Separovic in the courtroom
The Trial Chamber concluded that "a continuing conflict of interest would prejudice administration of justice and the integrity of the trial" in the Operation Storm case and decided that Miroslav Separovic, attorney from Zagreb, was "no longer eligible" to represent the accused Mladen Markac before the ICTY.
At the same time, the Chamber ordered Markac to immediately engage new counsel
and Separovic to assist the newly-appointed defense counsel until such time he or she can confirm that they are ready to take over the case. The new defense counsel must notify the Chamber as soon as practical, and not later than 30 March, how long he or she would need to prepare for the trial, set to start on 7 May 2007.
The Chamber did not indicate whether the trial of the three Croatian Army generals will be delayed because of the changes in the defense team of one of the accused. The three are charged with crimes committed during and after Operation Storm in the summer of 1995.
In its decision today the Trial Chamber reaffirmed its formal finding last week that Markac's current defense counsel is in a conflict of interest, since it is highly likely he would be called to testify in the trial of generals Gotovina, Cermak and Markac. Separovic was the Croatian justice minister at the time of Operation Storm and has personal knowledge of the events.
The judges also rejected Separovic's request to be allowed to address the Chamber once again. Separovic's claims at the hearing last week were rejected by the judges. He tried to persuade them that he was not in a conflict of interest, that he was not "an essential witness" since he had no "exclusive personal knowledge". He had not "acted improperly" in any way, Separovic contended, and there was no reason whatsoever for him to be removed from General Markac's defense team. At the hearing, Separovic indicated that he would seek leave to address the ICTY Appeals Chamber if the Trial Chamber decided he had to remove himself from the defense team.