Home
DEFENSE AND PROSECUTION AGREE, JUDGES DIVIDED
The issue of relevance of the documents tendered into evidence by General Milosevic's defense divided the Trial Chamber. Judge Robinson and Judge Mindua were in favor of admitting BH Army combat reports into evidence, while Judge Harhoff found the documents "interesting but not relevant" to the case. The prosecution on the other hand is not opposed to the admission of the documents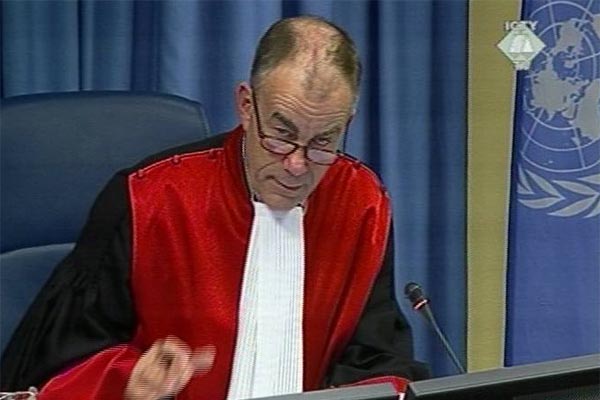 Frederik Harhoff, the Danish judge at the Tribunal
The documents General Milosevic's defense counsel tendered into evidence today were admitted by the Trial Chamber by a majority of votes. Judge Robinson and Judge Mindua were in favor, and Judge Harhoff presented his dissenting opinion. In his view, the documents were "interesting but irrelevant" to the case. Documents contain BH Army 1st Corps combat reports from 1994 and 1995 when it was under the command of the current prosecution witness, General Vahid Karavelic.
The documents were admitted after a long debate on their relevance that started yesterday. The defense counsel claimed that the documents were relevant because they showed that there had existed a "continuous and intense conflict" between the two armies with a lot of casualties on both sides. At the beginning of today's hearing, the Trial Chamber was unanimous in its view that this was "not a solid enough basis for the admission of the documents into evidence". The defense failed to prove that the BH Army military operations mentioned in the documents are related to the incidents in the indictment and General Milosevic's criminal responsibility. Judges noted that the documents spoke about the existence of an armed conflict in Sarajevo; this is not in dispute in this case. Defense counsel Tapuskovic agreed with this assessment, but continued to pursue the same line, presenting new BH Army 1st Corps combat reports.
[IMAGE]2586[/IMAGE]One of the documents speaks of "artillery action in the Nedzarici barracks area". The BH Army 12th Division forces opened fire from two mortars, a howitzer and "even a tank", Tapuskovic noted in particular. Having looked at the document, General Karavelic asked the defense counsel why he had not read the first paragraph. It states that on that day the "aggressor" forces – the Sarajevo-Romanija Corps - shelled the Oslobodjenje building and many other locations in the city. The artillery attack on the Nedzarici barracks, the witness said, was a retaliation for the shelling of Sarajevo described in the first paragraph, which the defense neither read nor translated.
Tapuskovic said today that he had received 6,000 documents from the BH Army archives. He selected and partially translated into English those he found the most relevant for his case. Prosecutor Edgerton noted that the documents admitted into evidence had to be translated in full, but otherwise did not object to their admission into evidence. This might indicate that the parts the defense did not translate contain elements that support the prosecution case. It seems that both the defense and prosecution, for different reasons, consider these documents relevant while the Trial Chamber is divided over the issue.
After General Karavelic, the prosecution called Dutch lieutenant Van Der Weijden. The witness, testifying as an expert, analyzed about ten sniper incidents alleged in the indictment against General Milosevic.