Home
GENERAL MILOSEVIC USES BH ARMY DOCUMENTS IN HIS DEFENSE
General Milosevic's defense uses a number of BH Army combat reports to argue that the BH Army snipers fired the bullets that killed citizens of Sarajevo, not the Sarajevo-Romanija Corps, commanded by the accused. Vahid Karavelic, former commander of the BH Army 1st Corps, labels such claims "monstrous"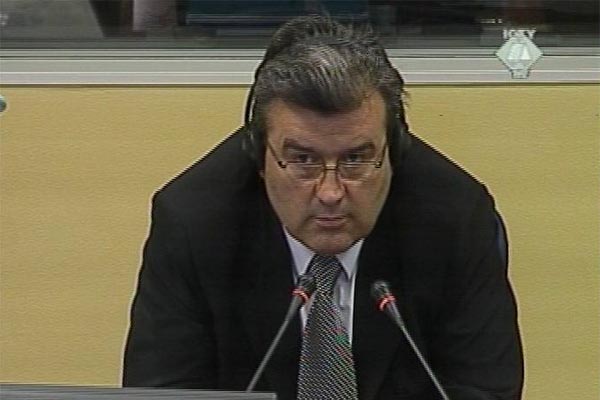 Vahid Karavelic, witness in the Dragomir Milosevic trial
Sniper victims in Sarajevo were "hit by the bullets fired from the territory controlled by the BH Army, not by the Sarajevo-Romanija Corps", claims Branislav Tapuskovic, representing General Dragomir Milosevic. Even if the victims were not actually hit by the BH Army snipers, then at least they were killed in "continuous and intense fighting between the two armies," Tapuskovic concludes.
Milosevic's defense counsel presented this claim in his cross-examination of General Vahid Karavelic. At the time relevant for the indictment, Karavelic commanded the BH Army 1st Corps. The witness labeled Tapuskovic's claim "monstrous", but he never finished his sentence: Presiding Judge Robinson cut him off.
Quoting a number of BH Army combat reports from the very top of the Army or Karavelic's 1st Corps, Tapuskovic drew the court's attention to the cases when "persons crossing the line were fired on". The witness confirmed that defending the line of combat was "the basis of combat in general", but when the defense counsel put it to him that civilians had been fired on, Karavelic's response was, "Well, here now, I'm not exactly a child".
The witness contradicted the defense argument that all the hills around Sarajevo had been controlled by the BH Army, not the SRK. As he said, only Colina Kapa and Zuc were positions he had under his control. As for the other ten hills the defense counsel listed, the key positions on the high ground were held by the SRK.
In his examination of Karavelic, Tapuskovic repeated his argument that the VRS soldiers had been forced "out of fear" for their own lives to take measures to save themselves. He quoted a document speaking about the presence of several hundred soldiers from Arab countries in the BH Army ranks. For them, the concept of a prisoner of war did not exist, the defense counsel said, and whoever fell into their hands was killed. Although Judge Robinson questioned the relevance of the document because "the purpose of a courtroom is not to write history, but for the parties to deal with specific charges", Tapuskovic insisted that this document be admitted into evidence.
It is doubtful just how much weight the judges will give to this and other documents tendered into evidence by General Milosevic's defense counsel today, since they expressed their doubts about both the relevance of the documents and Tapuskovic's questions.
Vehid Karavelic's cross-examination will continue tomorrow afternoon.