Home
BATAJNICA WAS CHOSEN BY GENERAL DJORDJEVIC
In the shortest testimony so far at the trial of the Kosovo Six, protected witness K-87 said that General Vlastimir Djordjevic had designated the SAJ firing range in Batajnica as the burial place for the bodies of Albanian civilians brought from Kosovo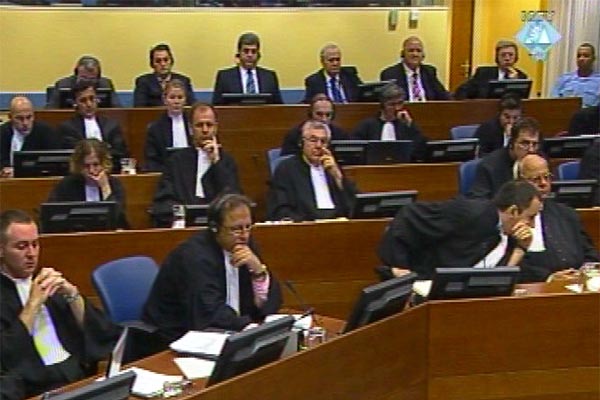 Milan Milutinovic, Nikola Sainovic, Dragoljub Ojdanic, Nebojsa Pavkovic, Vladimir Lazarevic and Sreten Lukic in the courtroom
Witness testifying as K-87 took only about 15 minutes to complete his testimony. He did it with image and voice distortion as protective measures. The statement he gave to the OTP investigators in October 2004 was admitted into evidence, and neither the prosecution nor the defense had questions for him.
In the course of his brief testimony, K-87 made a couple of amendments to the statement he had given to the OTP. Those amendments indicated that he had been involved in the transfer of dead Kosovo Albanians and their burial in the mass graves in Batajnica in the spring of 1999. He said that Vlastimir Djordjevic, former head of the Public Security Department in the Serbian Interior Ministry, had actually selected a place where the bodies of Kosovo Albanians would be buried. Djordjevic said "it was to be done at the firing range of the Special Antiterrorist Units Center in Batajnica," the witness explained, adding that he had been given those instructions in General Djordjevic's office. After that, he said, "I executed the order I was given".
General Djordjevic is included in the indictment for the Kosovo crimes as the six Serbian politicians and generals on trial now, but for the past four years he has been a fugitive from justice. Several witnesses have confirmed General Djordjevic's involvement in the transport and burial of the dead Albanian civilians.
The trial of Milan Milutinovic, Nikola Sainovic, Dragoljub Ojdanic, Nebojsa Pavkovic, Vladimir Lazarevic and Sreten Lukic continues on Monday. Among the witnesses who will testify next week, as the prosecution indicated, is Phillip Coo, Canadian military analyst.