Home
KLA BOUGHT WEAPONS FROM VJ
Shaun Byrnes, head of the US diplomatic mission recounted how one of the KLA commanders had told him that he had bought weapons from a VJ colonel from Nis. , Byrnes testifies at the trial of the Kosovo. Six Zoran Lilic is expected to testify "soon". It is still "uncertain" whether Wesley Clark will testify or not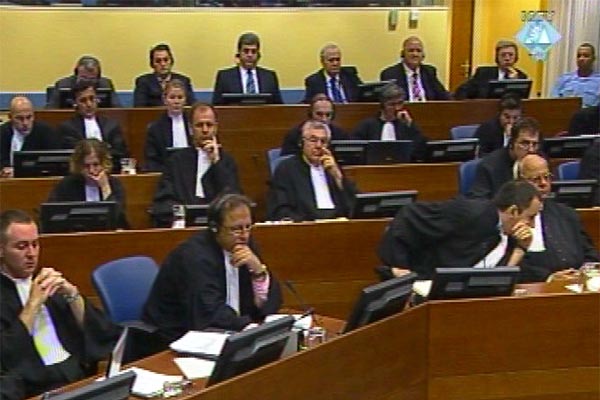 Milan Milutinovic, Nikola Sainovic, Dragoljub Ojdanic, Nebojsa Pavkovic, Vladimir Lazarevic and Sreten Lukic in the courtroom
Shaun Byrnes, former head of the US diplomatic monitoring mission on Kosovo (KDOM), denied in his cross examination today the allegations made by Sreten Lukic's defense counsel. The police general's defense counsel claimed that William Walker, who headed the Kosovo Verification Mission (KVM) in late 1998 and early 1999 was "pro-Albanian". Byrnes accepted that Serbian authorities "might have had that impression" but noted that in his talks with the KLA representatives he had learned that Walker had been considered to be "pro-Serb"
The defense counsel attempted to demonstrate that Byrnes also favored Albanians arguing that he knew of 30,000 rifles smuggled from Albania to Kosovo in the fall of 1998. Byrnes allegedly discussed this issue with Lukic on one occasion. The witness denied that, adding that he learned what he knew about the arming of the KLA from a KLA commander nicknamed Remi. Remi told him that he was buying some of the weapons for his soldiers from a VJ colonel and that the weapons were moved from Nis to Kosovo by night.
In his answers to General Vladimir Lazic's defense counsel, Byrnes repeated the claims he had made in his examination-in chief: he was not aware of any VJ crimes in Kosovo. Byrnes even agreed with the defense counsel that the Army troops' conduct had been "honorable and professional" from the beginning of the NATO campaign. He did emphasize that his evidence was based on hearsay – things he learned when he talked to the refugees because he left Kosovo in late February 1999 and went to Macedonia.
After Byrnes the prosecution will call another "additional witness", Zoran Lilic, former FRY president. If the Appeals Chamber approves it, the prosecution will be able to call Wesley Clark, former NATO commander. The next hearing at the trial of Milan Milutinovic, Nikola Sainovic, Dragoljub Ojdanic, Nebojsa Pavkovic, Vladimir Lazarevic and Sreten Lukic is scheduled for 24 April when administrative issues will be dealt with.