Home
PROSECUTION WITNESS: 'I SHOT WOMEN AND CHILDREN'
Former VJ soldier describes a number of crimes committed by members of his unit in Kosovo in the spring of 1999. He himself participated in the commission of a crime in which about 15 women and children were killed in the village of Trnje near Prizren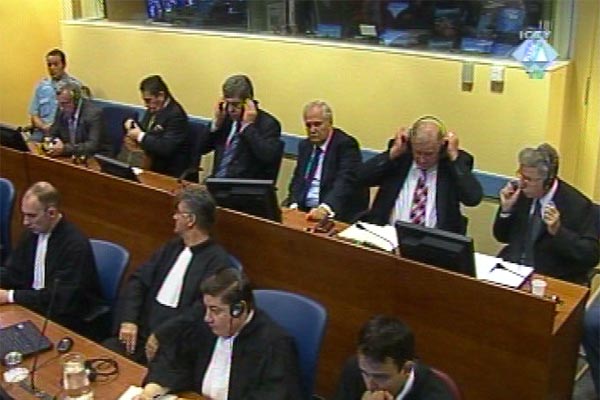 Milan Milutinovic, Nikola Sainovic, Dragoljub Ojdanic, Nebojsa Pavkovic, Vladimir Lazarevic and Sreten Lukic in the courtroom
Former VJ soldier testified today at the trial of the Kosovo Six via video link under the pseudonym K-58. He claims that his unit took part in the cleansing of the Trnje village near Prizren in late March 1999. As he said, "the cleansing" meant that the Albanian civilians were expelled and killed and their houses set on fire.
The company Witness 58 belonged to was a part of the 549th Motorized Brigade. They started setting the hay stacks and houses on fire immediately after entering the Trnje village. About 15 women and children were taken out to a yard soon after. A sergeant ordered the witness and four other soldiers to shoot them, he said. They "executed the order" and shot all of them. He did not mention the sergeant's name today, but in his evidence at the Slobodan Milosevic trial in September 2002 he identified him as "Sergeant Kozlin".
According to the Witness 58, this was not the only crime his unit participated in. In February 1999, they were tasked with the "cleansing" of the Jeskovo village. When they were done, the witness saw the bodies of ten dead civilians. He later heard his comrades talking about 25 to 30 dead. He claims that the operation was ordered by the commander of the VJ 549 th Motorized Brigade, Colonel Bozidar Delic. Delic has been promoted to the rank of general in the meantime. According to the witness, Delic summoned his unit and said that they were ordered "to go and cleanse Jeskovo the next day". A little earlier, in December 1999, Delic's deputy, Lieutenant Colonel Konjikovac, ordered "the cleansing" of Albanian civilians from the Ljubidza village near Albanian border.
Another witness, K-54, testified before this Trial Chamber about the same crimes in late February. He was a member of the same unit as Witness K-82.
Explaining his decision to testify about the Kosovo crimes the witness said that "the screams of a one-year-old baby and other victims" still haunted him in his dreams.
The defense counsel of General Lazarevic, the Pristina Corps commander, argued that the witness's motive was different: he wanted to pull himself out of a robbery charge filed against him by the national judiciary in 2002. Those issues were discussed mainly in closed session so it remains unknown which is the link that the defense counsel put between the testimony in The Hague and the dropping of the robbery charge against the witness.
The trial of six Serbian political, military and police officials continues tomorrow with the evidence of protected witness K-87.