Home
PROSECUTION WILL CALL THREE MORE WITNESSES AT THE KOSOVO SIX TRIAL
The Trial Chamber in the Kosovo Six case granted the prosecution's request to extend their case. The prosecution wants to call three more witnesses: Wesley Clark, Zoran Lilic and Shaun Burns and now has until mid-May to do it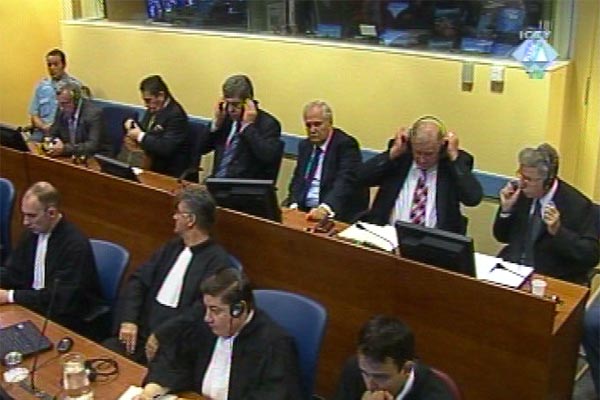 Milan Milutinovic, Nikola Sainovic, Dragoljub Ojdanic, Nebojsa Pavkovic, Vladimir Lazarevic and Sreten Lukic in the courtroom
Although the prosecution was due to rest its case this week at the trial of six Serbian officials charged with Kosovo crimes, in the end it requested more time to call three new witnesses: Wesley Clark, former NATO commander; Zoran Lilic, former FRY president and Shaun Burns, from the UN Embassy, former mission chief in Kosovo. Today the Trial Chamber granted the request, but the final outcome regarding Wesley Clark's testimony will be known on 15 April 2007 when the Appeals Chamber is due to render its decision on this issue.
If the Appeals Chamber allows him to testify, the prosecution will have until 15 May to examine him and two other witnesses. If Clark is not allowed to give evidence, the prosecution will call only Lilic and Burns.
Because of these new developments, the defense asked for an extension of the deadline for the submission of their witness and exhibit lists, but the judges refused to grant their request. They decided that the three additional witnesses could not substantially influence the preparations for the defense case. The defense will thus have to file all its motions by 15 June 2007. The pre-defense conference is scheduled for 22 June 2007, and the defense case is set to begin on 30 June 2007.
The next session at the trial of Milan Milutinovic, Nikola Sainovic, Dragoljub Ojdanic, Nebojsa Pavkovic, Vladimir Lazarevic and Sreten Lukic is scheduled for 16 April 2007.