Home
ROSES ON SARAJEVO CONCRETE
At the trial of General Dragomir Milosevic, a Sarajevo police inspector describes the details of the on-site investigation after the explosion of three shells in the Livanjska Street in Sarajevo on 8 November 1994. Three persons – two of them children – died in the incident. Video recordings of the craters and explosion marks in the concrete were shown in court. The people of Sarajevo call them "roses" or "paws"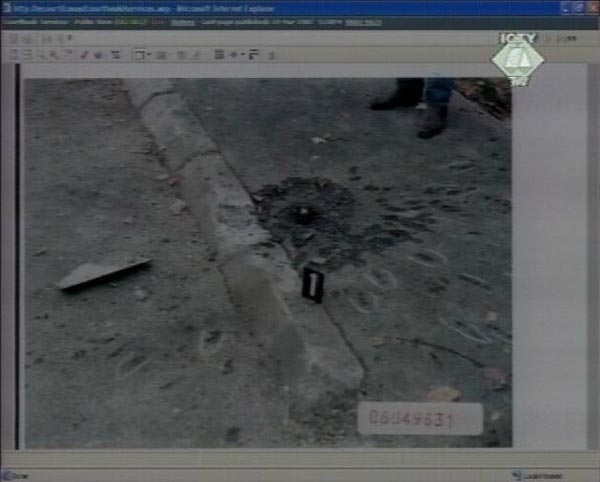 The picture of the craters and traces of explosions in the concrete that the citizens of Sarajevo call 'roses' or 'claws'
A Sarajevo police investigator testified today at the trial of General Dragomir Milosevic, former VRS Sarajevo-Romanija Corps commander. On 8 and 9 November 1994, he took part in the on-site investigation in the Livanjska Street in Sarajevo. Three shells impacted there in a space of three hours, killing three persons – two of them children – and injuring six.
In his examination-in chief the witness said that they had found the tail fins of one of the shells at the explosion site. The conclusion was that they belonged to an 82mm mortar shell manufactured in the Krusic weapons factory in Valjevo.
In the course of his testimony a video tape of the on-site investigation was shown, together with photographs of craters and explosion marks left in the concrete. The witness explained that in Sarajevo they were called "roses" or "paws". Members of Sarajevo crime scene investigation team can be seen on the photos, together with the UNPROFOR members who were conducting their own investigation into the second and the third explosion. The defense claims that they were not allowed to investigate the first explosion, which took the worst toll.
In his cross-examination the witness confirmed that as he had worked the site he had clashed with a Nigerian officer who had tried to pull the remnants of the shell out from the crater, intending to take them away.
"If he had not decided not to take it, I would have drawn a gun" the witness said, explaining that he was just doing his job when he prevented the Nigerian major from removing evidence from the crime scene. He added that the UNPROFOR presence at the sites, especially when children were among the victims, would generate discontent among the people.
When asked about the direction from which the shells had been fired, the witness said that they had come from "the easterly direction". He could not be more specific as he was not a ballistic expert. The reports made by the local investigation team tallied with the UNPROFOR report, he said, differing only as regards the place from which the shell had been fired. The UNPROFOR report stated that the shell had been fired from the east, but from an area controlled by the BH Army.
Another witness testified recently about the incident in the Livanjska Street. He said that the shells had been fired from the direction of Poljine, from the positions held by the Bosnian Serb troops. The incident is listed in the indictment against General Milosevic, who is charged with the shelling and sniping campaign against Sarajevo civilians.