Home
BELGRADE REFUSED NATO OFFER TO DISARM KLA
Ambassador Wolfgang Petritsch talks about the draft of the Rambouillet military agreement that the Yugoslav delegation rejected in March 1999 although it envisaged that NATO would do what the VJ could not do - disarm the KLA and restore peace in Kosovo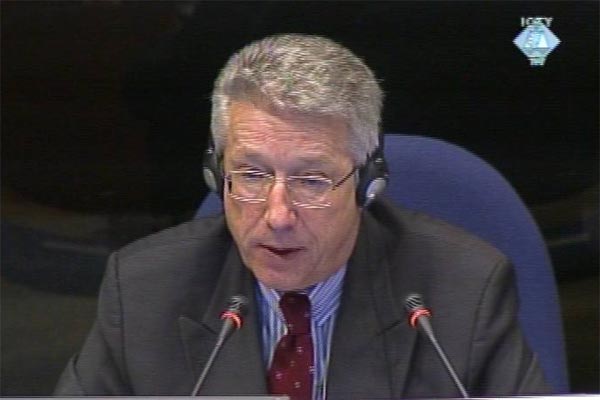 Wolfgang Petritsch, svjedok na suđenju šestorici srpskih zvaničnika optuženih za zločine na Kosovu
The Yugoslav side refused to sign the Rambouillet document, although it was just a draft of the agreement that was subject to further negotiations and changes. Wolfgang Petritsch, former Austrian ambassador to Belgrade and the EU special envoy to Kosovo, repeated this several times today in his testimony at the trial of six Serbian officials charged with Kosovo crimes. Petritsch was the EU special envoy from September 1998 to July 1999. His evidence in July 2002 at the Slobodan Milosevic trial was admitted into evidence today.
Petritsch said that the Rambouillet draft had guaranteed the territorial integrity and sovereignty of Serbia in Kosovo as it had ruled out any border changes. It is true that the NATO presence in Kosovo was envisaged, but it was because the international community had seen in Bosnia Herzegovina that there would be no peace without foreign troops. The task of the troops was to accomplish something Serbia was not able to do – to disarm the KLA and restore peace in Kosovo. NATO forces would be obliged to respect the laws of Federal Republic of Yugoslavia, Petritsch said. According to the agreement, VJ forces would also be deployed in Kosovo along the border with Albania and Macedonia.
Recalling his meetings with two of the six accused, Petritsch said that Nikola Sainovic had been regarded as the head of the delegation, primarily in charge of political issues. He described Sainovic as "an nice partner to negotiate with" and saw Milan Milutinovic as "a less flexible negotiator". Milutinovic regularly consulted with Milosevic. At a meeting, the then Serbian president warned that there "would be a massacre in Kosovo" if NATO were to intervene, Petritsch recalled. He and other foreign negotiators took it as a threat to Kosovo Albanians. Petritsch's testimony will continue tomorrow.
At the beginning of today's hearing, the defense provided additional explanations for its request to strike Canadian captain Philip Coo from the witness list. In their view, Coo, who used to work for the OTP, is partial and unsuitable to testify as a military expert. The prosecution suggested that the defense could have presented its arguments in the cross-examination of the witness. The Chamber will rule on the defense motion later.