Home
SECRETS OF KOSOVO GRAVES
French pathologist gives evidence about the cause of death of more than 500 Kosovo Albanians killed on 10 locations in Kosovo listed in the indictment against six Serbian officials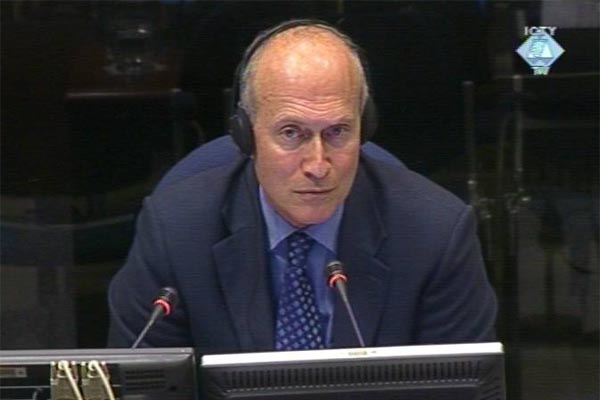 Eric Baccard, witness at the Slobodan Milosevic trial
When the war was over in Kosovo, the OTP investigators exhumed hundreds of graves of various sizes and unearthed the remains of more than 4,000 victims. Forensic pathologist teams from UN member states also took part in the effort. Eric Baccard, a French forensic pathologist and ballistics expert, complied the exhumation and post mortem reports on victims from 14 grave sites. The indictment against the Kosovo Six lists ten of these sites. Baccard's expert report and the transcript of his evidence given in May 2002 at the Slobodan Milosevic trial were admitted into evidence today.
According to the indictment, more than 500 civilians were killed on ten locations analyzed in Baccard's report. In Izbica alone, the French pathologists found 139 individual graves, but only 28 human remains and remnants of clothes were found because the graves had been tampered with in early May 1999, and the bodies had been moved elsewhere. Baccard's expert report concludes that at least 127 persons were killed in Izbica on 27 March 1999. The indictment against the six Serbian officials charged with crimes in Kosovo repeats the allegation. Baccard's report was based on the findings of the French pathologists and on the video tape showing the bodies of the victims. Among them were old men and persons with disabilities.
Apart from Izbica, the report lists the crimes in Mala Krusa, Vucitrn, Bela Crkva and Suva Reka. More than 100 persons were killed in Mala Krusa and there were about 200 civilian victims in Suva Reka. There were women, children and old men among them. In most of the cases analyzed in the report, death was caused by gunshot wounds to the chest, back or head, injuries caused by explosives or blunt trauma.
The trial of Milan Milutinovic, Nikola Sainovic, Dragoljub Ojdanic, Nebojsa Pavkovic, Vladimir Lazarevic and Sreten Lukic continues tomorrow. Patrick Ball, US expert in demography and statistics, will give evidence on the effects of NATO air strikes and KLA military actions on the mass movements of population and the killings in Kosovo.