Home
"FATAL IMPACT" OF KOSOVO PRESS
The cross-examination at the trial of the Kosovo Six was marked by the clash of opinions between two Americans, Patrick Ball, the witness, and John Ackermann, defense counsel. The witness rejected the claim that the movements of people in Kosovo had been caused by "rumors" spread by Kosovo press.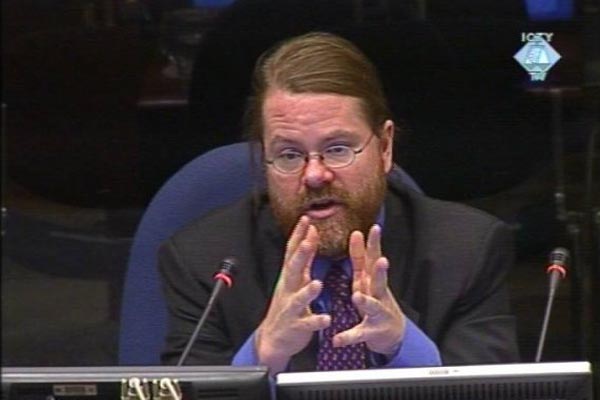 Patrick Ball, witness in the trial of the former Serbian officials charged with crimes in Kosovo
The cross-examination of Patrick Ball, a US sociologist and statistician, continued today at the trial of the Kosovo Six. John Ackermann, defending Nebojsa Pavkovic, one of the six men charged with the crimes in Kosovo, described the witness's expert report using a hacker saying. "garbage in, garbage out". Ackermann thus hinted at the unreliability of the input data. Ball used the data to exclude the possibility that NATO and KLA activities were the cause of the population movements and killings of civilians in the Kosovo war in 1999.
The witness said that that he had obtained the data on NATO and KLA activities from the official announcements of the then Yugoslav authorities and in part from the OTP. The defense counsel claims that the data obtained in this way are unreliable as their source was neither NATO nor the KLA, whose activities were analyzed in the study. The witness allowed that some of the data he had used may have been incorrect but refused to admit that their number could undermine the final results of his analysis.
When Pavkovic's defense counsel said that Kosovo Albanians fled because of "the rumors and fear spread by the Kosovo media", the witness reminded him of the fact that the period of the most extensive population movements coincided with the largest number of killings. That could not have been a result of a media campaign, unless "the defense counsel knows something about the fatal effects of press that others don't know."
The defense counsel for the six accused pointed to Ball's incorrect estimate of the number of Albanian civilians who had been killed, asking him to state if that could have influenced his findings. In his report, Ball puts the possible number of people killed at 10,000 persons, while the defense counsel claim that the correct number is 4,300. The witness replied that his final results could not have been skewed by an incorrect estimate, as long as the time and geographical distribution of the killings remained the same.
In the course of the cross-examination, presiding judge Iain Bonomy asked the defense counsel if any of them planned to confront the witness with the contrary results reached by another expert. He noted that "the cross-examination of an expert witness by a lay person can go on forever". His question remained unanswered. None of the defense counsel put to Ball other experts' contrary findings.
The trial of Milan Milutinovic, Nikola Sainovic, Dragoljub Ojdanic, Nebojsa Pavkovic, Vladimir Lazarevic and Sreten Lukic continued with the testimony of the protected witness K-88.