Home
MOMCILO KRAJISNIK'S DEFENSE COUNSEL CALLS FOR A RE-TRIAL
In the appeal against the judgment sentencing Momcilo Krajisnik to 27 years in prison, Colin Nichols claims that the former Speaker of Bosnian Serb Assembly "did not get a fair trial". In eleven grounds, Nichols, who is Krajisnik's assigned counsel, contests the entire judgment and calls for a re-trial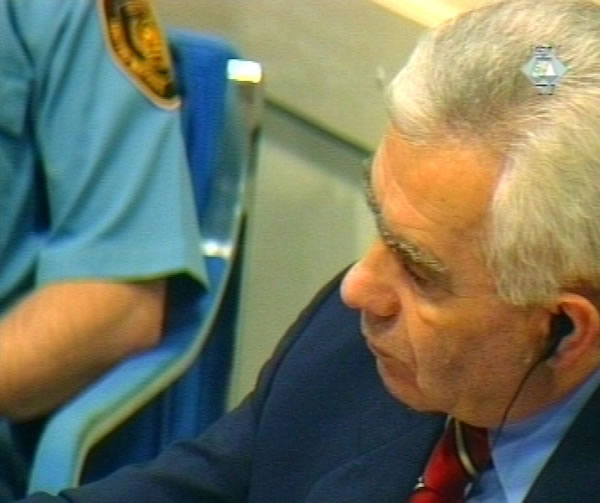 Momcilo Krajisnik in the courtroom
Both Colin Nichols, who has been assigned to Momcilo Krajisnik as his defense counsel, and the prosecution agree on one thing: the judgment sentencing the former political leader of Bosnian Serbs to 27 years in prison is "manifestly inappropriate". The defense counsel considers the sentence "inappropriately harsh", and the prosecution believes it is "inappropriately mild". In late October 2006, the prosecution filed a formal notice of appeal against the sentence, demanding that the accused be sentenced to life in prison.
The length of the sentence is one of the eleven grounds for appeal filed by Colin Nichols, Momcilo Krajisnik's assigned counsel. The attorney from Great Britain filed this appeal without receiving the instructions and authorization from the accused. Momcilo Krajisnik has not agreed to his appointment and is writing his own appellate brief.
The first and most important ground listed in Nichols's appeal is that Krajisnik "did not get a fair trial". Krajisnik was not given "adequate time and conditions required for the preparation of his defense". Moreover, time limitations and other restrictions for the presentation of the defense case were imposed at trial. Nichols believes the Trial Chamber did not give itself enough time to carefully consider all the evidence. Its judgment was delivered only one month after the end of the trial.
Among other grounds for appeal presented by Nichols is the "inadequate statement of reasons", "the Chamber's erroneous approach to the joint criminal enterprise", and errors in fact and law regarding the deportations, forcible transfer, the position the accused held in the hierarchy and his knowledge of what was happening in Bosnia Herzegovina.
The British attorney believes that "the trial in general was not fair" and contests the sentence in its entirety, calling for a re-trial of Momcilo Krajisnik.