Home
HOW TO DEFEND KRAJISNIK IN SPITE OF HIMSELF?
Half a year after he was sentenced to 27 years, Momcilo Krajisnik has yet decided who will represent him in the appellate proceedings. Krajisnik claims he can represent himself – despite the fact that he runs the risk of getting life, as the prosecution has asked for in its appeal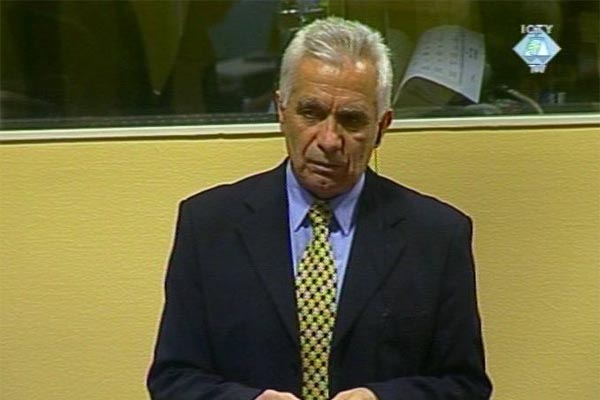 Momčilo Krajisnik in the courtroom
Momcilo Krajisnik was given until Wednesday, 4 April, to name the lawyers he would like to represent him in the appellate proceedings instead of assigned defense counsel Colin Nichols in the appellate proceedings.
Judge Schomburg, the pre-appeal judge in this case, noted that half a year had passed since the former Bosnian Serb political leader had been sentenced to 27 years in prison. He said there must be some limits as to how long the accused could ponder who would represent him. Schomburg thus scheduled another status conference for Thursday, 5 April. A final decision should be made then.
At a status conference today, Krajisnik repeated he wanted Alan Dershowitz, famous US attorney, to represent him. If it turned out to be impossible, he preferred to defend himself in the appellate proceedings. The Registry representative was invited to the conference to present the state of affairs. When Dershowitz was last contacted, in January 2007, he said that he was "in principle interested" in taking on Krajisnik's case, but not on terms stipulated in the ICTY's rules regulating the payment for the defense counsel services. Following that, Krajisnik informed the Registry that he had "funds" he could use to pay for his defense, but then all contacts with Dershowitz ceased.
Krajisnik claimed today that he was able to "defend himself well"; he only needed professional assistance of two lawyers for what he called "the procedural aspect of the appeal". Noting that Krajisnik's claim that he was able to defend himself was quite contrary to his "need for professional assistance", Judge Schomberg asked him why he did not want to appoint the professionals who enjoyed his trust as his defense counsel. This turned out to be an old problem revisited. Krajisnik wants Professor Zoran Stojanovic and Chicago lawyer Dejan Brasic to be members of his "professional team". After the American Bar Chamber suspended Brasic for financial shenanigans, the Registry struck him from the list of lawyers allowed to practice before the Tribunal.
Krajisnik finally agreed to think about possible members of his defense team in the eight days he was given and to propose his legal representatives in the appellate proceedings. Both his and the prosecution's appeal will be considered by the Appeals Chamber. The prosecution, for its part, has called for a life sentence.