Home
KRAJISNIK'S "(UN)EQUIVOCAL" DEFENSE
Although Judge Schomburg asked Momcilo Krajisnik to declare "unequivocally" whether he would represent himself or engage defense counsel, his reply was "equivocal": he wanted to represent himself but with expert assistance of several persons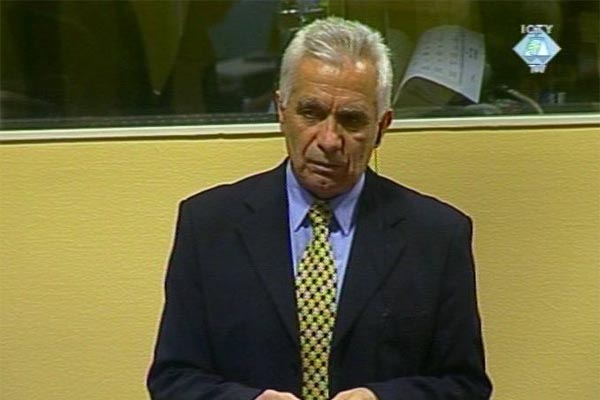 Momčilo Krajisnik in the courtroom
At today's status conference Momcilo Krajisnik did not give the names of attorneys who would represent him in the appellate proceedings to replace his assigned counsel Colin Nicholls. His answer on issue was due yesterday. Krajisnik said that all his attempts in the past six months to engage legal counsel had failed. Krajisnik said he wanted to continue representing himself, stressing that he did not want to rely on the assistance of the assigned defense counsel.
Judge Wolfgang Schomburg warned the accused that this meant the Registry would not grant him financial assistance and invited him once again "to say unequivocally" how he planned to conduct his defense. Krajisnik repeated that he would represent himself, but added that "no man could draft an appeal by himself", indicating that he would engage "several persons" who would help him with his appeal. The Judge noted that his reply was "equivocal" and cautioned Krajisnik that he would not tolerate any "defense team acting behind the scenes".
Today's status conference once again highlighted just how poor the communication is between the accused and his assigned defense counsel Nicholls. Krajisnik refuses to comply with the judges' suggestion to file a single consolidate notices of appeal together with his assigned counsel instead of two. In the meantime, Nicholls had asked to be given a new status, that of an amicus curiae. Today he said that he would decide as soon as possible whether he still wanted that or preferred to remain assigned defense counsel.
Presiding judge said that he expected "a joint consolidated notice of appeal" to be filed in three weeks' time. The full appellate brief is to be filed within 25 days from the receipt of the judgment translated into Serbian. It was announced that the Appeals Chamber would soon rule on Krajisnik's request to be allowed to represent himself.