Home
KRAJISNIK COMPLAINS ABOUT CONDITIONS IN DETENTION UNIT
Momcilo Krajisnik, sentenced to 27 years in prison, urges the Appeals Chamber to consider the 'difficult situation' he finds himself in. He has 'not been provided with adequate working conditions' to work on his appeal. He is representing himself in the appellate proceeding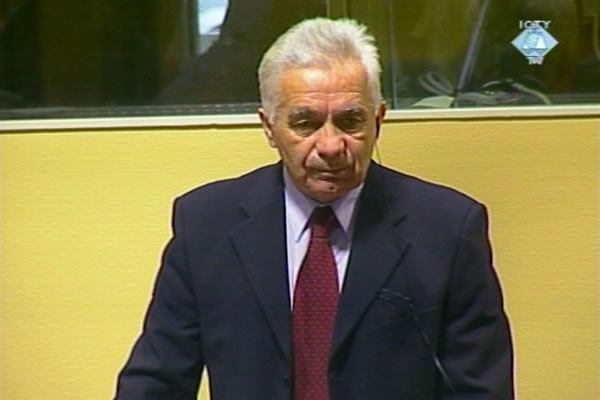 Momcilo Krajisnik in the courtroom
Momcilo Krajisnik is representing himself in the appellate proceedings. He was sentenced to 27 years by the Trial Chamber. Now, he has urged the Appeals Chamber to consider his 'difficult situation' because he has 'not been provided with adequate working conditions' to work on his appeal.
Krajisnik thinks that one telephone line he has to contact his legal advisers in the course of the appellate proceedings isn't enough. He also asks for a computer to be put for his use in the visiting room of the ICTY Detention Unit. He wants to use it during his consultations with his legal assistant and interpreter. Presiding judge Theodor Meron instructed Krajisnik to submit these requests in writing to the ICTY Registry.
The Appeals Chamber allowed Krajisnik to represent himself in the appellate proceedings in May 2007, after he refused to cooperate with assigned counsel Colin Nichols. In the same decision, the Appeals Chamber specified that Nichols would take part in the proceedings as amicus curiae. British attorney Nichols was in telephone contact with the courtroom during the hearing today. He said that he would submit his written arguments on the appellate proceedings in few days' time.
Answering the question about his health, Krajisnik replied that he had 'no specific health problems'.