Home
"OUR TRAM" AND ONE WARRING SIDE
Witnesses of a sniper attack on a Sarajevo tram reject the claims made by General Dragomir Milosevic's defense that they were shot by stray bullets in an exchange of fire between "the two warring sides". They are sure the shots were fired from the direction of Grbavica and that they were fired by "only one warring side"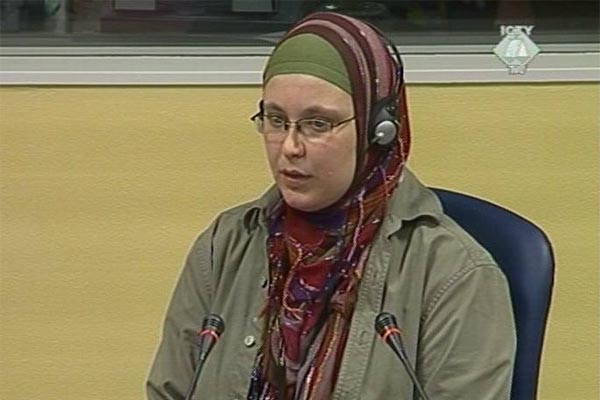 Alma Cehajic, witness in the Dragomir Milosevic trial
The witness testifying under pseudonym 118 drove the tram on 27 February 1995 when at least three persons were injured. One of them was Alma Cehajic. Both testified today at the trial of General Dragomir Milosevic as the case continues with the evidence of sniper attacks on civilians between the summer of 1994 and fall of 1995. In that period the accused was the commander of the VRS Sarajevo-Romanija Corps.
The witnesses described how shots had been fired on the crowded tram en route from the city centre to Ilidza. The incident happened close to the Marsal Tito barracks. Several bullets were fired. One hit Alma Cehajic in the arm. "When the shooting started I kneeled down and prayed to God that a bullet didn't hit me in the spine and leave me paralyzed", she said. She was relieved, she added, when she realized she was only hit in her arm. Both witnesses are sure that fire was opened from the south, the direction of the Serb army positions. According to Alma Cehajic, the entry and the exit wound on her arm point to that conclusion, as does the fact that they hit the left side of the tram, facing Grbavica. The protected witness also noted that.
The defense counsel implied the bullets "strayed" from the nearby Vrbanja Bridge "as the two warring sides exchanged fire". To support the argument, General Milosevic's defense counsel presented an UNPROFOR report mentioning the clashes between the VRS and BH Army going on at the Vrbanja Bridge on 27 February 1995.
Both witnesses said they didn't hear any shooting that would sound like an exchange of fire between the two warring sides. The tram was hit from the south and not from the east, where UNPROFOR reported clashes. "This was not the shooting between the two warring sides; it was one warring side shooting at our tram", the protected witness said. In the re-examination, the prosecution pointed to the part of the same document in which UNPROFOR concludes, on the basis of witness' statements, that the tram was shot at from the direction of Grbavica.
As today's hearing drew to a close, another tram driver began his testimony. This witness is testifying under pseudonym 54, with image and voice distortion. He was wounded on 21 November 1994, when a shell hit a spot one meter in front of his tram. In his opinion the shell was also fired from the direction of Grbavica.