Home
RISKS OF ROUTINE TASKS
Two witnesses describe how they were wounded in sniper attacks in December 1994 and December 1995. Their evidence confirms the allegation of the indictment that even everyday, routine tasks, such as getting firewood or riding on a tram were not safe in Sarajevo under siege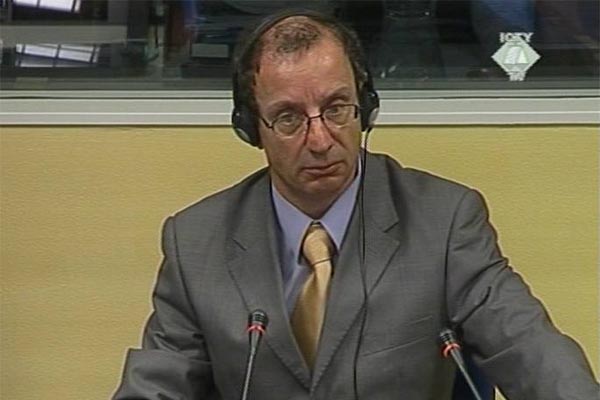 Alen Gicevic, witness in the Dragomir Milosevic trial
"You're a lucky man. I'm glad that you're alive and that you're here", Presiding Judge Robinson said to witness Alen Gicevic. He was wounded twice during the Sarajevo siege: the first time by shrapnel in the stomach and the second time by a sniper in his leg. The sniper attack of 2 March 1995 is listed in the appendix to the indictment against General Dragomir Milosevic. He is charged with the artillery and sniper terror in Sarajevo between August 1994 and November 1995.
The witness was hit in the leg as he rode on a tram from Novo Sarajevo towards the city center. He says the shot came from Grbavica, most probably from the Metalka building or from one of the four skyscrapers. These skyscrapers were often used by the Bosnian Serb military for sniper attacks on Sarajevo civilians.
Forty-six-year old Agzem Agovic was wounded in the same sniper attack on the tram. Gicevic claims the tram was hit by two or three bullets. In the cross-examination, the defense tried to challenge this part of his evidence. Milosevic's attorney presented the police report which states that the tram Agovic was in had been hit by a single bullet. The witness stood by his claims. He was there on the scene when the incident took place, not the police officer that did the on-site investigation, he said. He challenged the credibility of the report in which not even the name of the tram driver, Slobodanka Livnjak, was spelled correctly. Slobodanka Livnjak testified two weeks ago about the incident.
Another sniper victim took the stand today. Dervisa Selmanovic was shot in her leg on 10 December 1994 in Sedrenik, a part of Sarajevo. She was gathering firewood. In her opinion, she was shot from the direction of Spicasta Stijena, an area controlled by the VRS.
Huso Palo ended his testimony this morning. He drove the tram in which one person was killed and six were injured by a sniper on 23 November 1994. As today's hearing drew to a close a protected witness, testifying under pseudonym 118, began her testimony. She was driving a tram on 27 February 1995 when it was hit by sniper. Two persons were injured in the incident.