Home
VICTIMS AND EYE-WITNESSES OF SNIPER TERROR
At the trial of General Dragomir Milosevic, former VRS Sarajevo-Romanija Corps commander, the court hears testimony of victims and eye-witnesses of the sniper terror campaign. In addition to the sniping, Milosevic is charged with the shelling of Sarajevo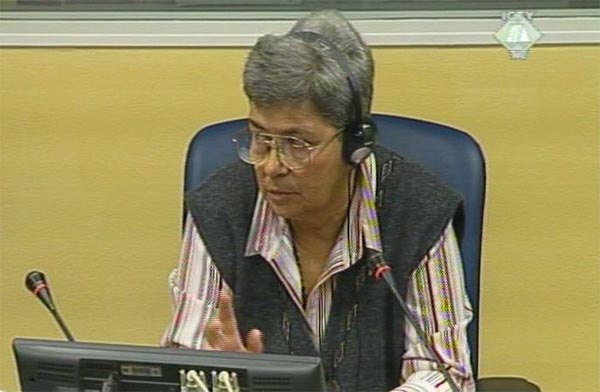 Slavica Livnjak, witness in the Dragomir Milosevic trial
Today, the court heard the testimony of one victim and two eye-witnesses of the sniper incidents in the case against General Dragomir Milosevic, former VRS Sarajevo-Romanija Corps commander.
Protected witness D 35 was wounded on 8 October 1994 in a sniper attack on a tram moving along the Zmaja od Bosne street, close to the Holiday Inn Hotel. She described how she had been hit while standing in the midsection of the tram facing the Metalka building in Grbavica. She knew that "each ride was hazardous" but, as she said, "the people had to move about".
The second witness testifying today, Slavica Livnjak, was driving tram 268 in the direction of Bascarsija. On the same stretch of the Zmaja od Bosne street, where trams have to slow down to take a curve, the tram came under fire. The bullets hit and wounded two passengers in the rear part of the tram. According the witness's evidence, the shots were fired from the direction of the Metalka building in Grbavica. This was corroborated by a reconstruction carried out last year by the OTP investigators at the crime scene.
Protected witness D 62 was 16 years old when his best friend Adnan Kasapovic, also a sixteen-year-old, was killed in front of their building. The previous night they had celebrated Adnan's birthday, and on the morning of 24 October 1994 they went out of the building together with another friend. As the building's entrance was often under sniper fire, they took a safer route towards a passage leading towards the Vemeks department store. But then the witness heard the shot, and then Adnan's scream. The boy was shot in the right side of the chest and passed away on the way to hospital. As the witness said, the shot was fired from the direction of the nearby Home for Blind Children in Nedzarici. Its attic was used as a sniper nest by the Serb forces, with holes punched in the walls to serve as embrasures.
In the cross-examination, General Milosevic's defense counsel tried to prove that there had been BH Army soldiers and military installations close to the sites of the sniper incidents; those could have been legitimate targets of Serb sniper attacks.