Home
SARAJEVO'S THEATRE OF WAR
Chief UN Military Observer in BH Ghulam Muhammed Mohatarem gives evidence at the trial of Dragomir Milosevic. He says that the whole world watched the Sarajevo theatre of war. He claims he spoke to the accused general "at least twice" about the sniping and shelling of civilian targets in Sarajevo, but that Milosevic and the other officers in the Bosnian Serb Army simply didn't care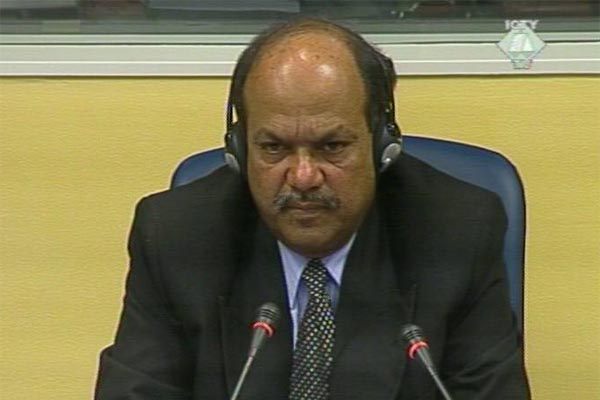 Ghulam Muhammed, witness in the Dragomir Milosevic trial
"Sarajevo was a kind of theatre that was broadcast live on TV to the entire world," Pakistani brigadier Ghulam Muhammed Mohatarem said at the trial of General Dragomir Milosevic. The VRS general is charged with the shelling and sniping terror campaign against Sarajevo between August 1994 and November 1995.
Mohatarem was the chief UN Military Observer in BH from mid-February 1995 until early January 1996. His main duty was to monitor the implementation of the agreements signed by the warring factions and the entry of humanitarian convoys into the city. He worked closely with the UNPROFOR commander in BH, General Rupert Smith.
Mohatarem claims that he spoke with the accused Milosevic at least twice about the sniping and shelling of civilians targets in Sarajevo from Bosnian Serb positions. He also spoke with the other high-ranking officers of the Serbian Army. They maintained that they were firing only on military targets. When civilian casualties were brought up, they just "shook their heads". In other words, the witness says, they didn't care. Although he asked for a meeting with Radovan Karadzic and Ratko Mladic several times, they refused to see him. His impression was that this was because he was a Muslim.
During his tour of duty, Sarajevo was shelled continually, and humanitarian convoys were deliberately blocked by the Bosnian Serbs with the aim of starving the population and the international staff. The months of May, June and July of 1995 were particularly difficult. This was when, in his opinion, the Serbs shelled Sarajevo in order to draw the attention of the international community away from Srebrenica.
He personally saw the impact of an air bomb, nicknamed "pigs" by the Sarajevans.
Testifying about the role of his office in the investigation into the Markale shelling on 28 August 1995, the witness said that his team of UN military observers carried out an investigation with several other teams, including the French and British engineers, US Embassy staff and BH police. The unanimous conclusion was that the shell had been fired from Serb positions.
In the cross-examination, the defense used the same old argument: the shell was fired by someone else, not the Serbs, in order to provoke NATO into launching air strikes. The defense counsel quoted a statement made by Russian colonel Andrey Demurenko, the commander of the international forces in the area held by the Bosnian Serbs. Demurenko claimed at the time that the Bosnian Serbs had not fired the shell that hit the Markale market.
At one point the defense lawyer Branislav Tapuskovic asked the witness to look the accused "carefully in the eyes" and to identify him as the person he had "allegedly" met with to discuss the sniping and shelling in Sarajevo. The witness complied and confirmed his previous testimony.