Home
SERBIAN KRAJINA DIPLOMACY
Slobodan Jarcevic, foreign minister in the former RSK, blames the failure of the negotiations on the Croatian and international negotiators. He goes on to say that even Russia, ever friendly, had no understanding for the activities of his ministry. Jarcevic had his office in Belgrade and was on the federal government payroll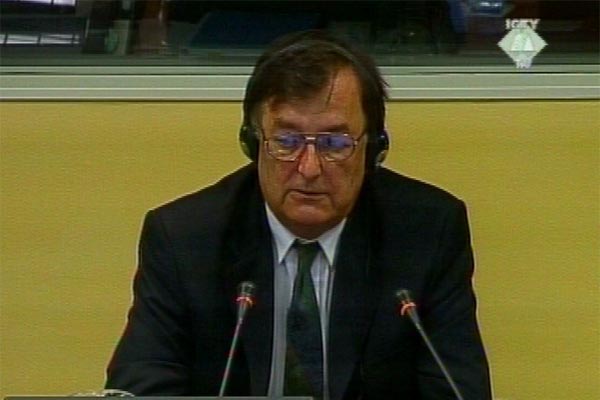 Slobodan Jarcevic, defense witness for Martic
The last witness to testify in Slobodan Milosevic's defense is the first witness called by Milan Martic's defense. In October 1992, he was appointed the foreign minister in the cabinet of the former RSK. The seat of his ministry was in Belgrade and his salary was paid by the FRY federal government. He would meet, he said today, "various diplomats", but they "made sure there was no written record of the meetings".
He was succeeded in April 1994 by Milan Babic and he became the foreign affairs advisor to the then RSK president, Milan Martic, who is now in the dock. Like all the other RSK officials, he remained in that post until August 1995.
The witness explained why the negotiations between Croatia and RSK during his term of office had been a failure. The Serb side, Jarcevic says, favored peace all the time, while Croats were unreliable and "treacherous" negotiators. They often made "impossible demands" to the Serbs, they violated what they had signed or pulled out of talks. In June 1994, the Croatian delegation never showed up for the secret talks in London, although he had waited for them for five days in Cromwell's castle.
On one occasion, in the summer of 1993, Jarcevic traveled to Moscow to complain about the unprincipled behavior of the Croatian negotiators. As he said, he was received by Igor Ivanov, who "criticized him roundly" because Serbs were unable to live together with their Croat and Muslim neighbors, pointing to the good relations between Russia and 30 million Muslims living there. The witness claims that he told the Russian diplomat, "Mr. Ivanov, you'll have trouble with the Chechens, just you wait and see".
Jarcevic criticized the Croat and international negotiators alike for talking only about the return of the Croats expelled from the RSK, and not saying anything about the Serbs "expelled from the Croat cities and towns" outside of the RSK. At the Milosevic trial he said there were 471,000 such people. Today he put the figure at 391,000.
During the Z-4 plan talks, Jarcevic was Martic's foreign policy advisor. He says the RSK president refused to even negotiate about the plan, because the international force was renamed. It was no longer called UNPROFOR, but UNCRO and the name change meant that they no longer had the mandate to protect the Serbian population. Before that happened, Martic went through the document and saw that the autonomy would not include all of the RSK, but only "11 municipalities in the Knin and Dvor districts", he says.
Contrary to what Jarcevic said, the then US ambassador in Zagreb, who testified as a prosecution witness this April, said that Martic "physically refused to touch the document" when the Russian ambassador tried to personally hand it to him.