Home
MARTIC'S LAST ADDRESS
On the last day of trial, Milan Martic's defense counsel calls for an acquittal for his client, "a hero and the president of a refugee nation". The accused himself claims the indictment against him was copied from the Croatian media and that it was the prosecutor's task to safeguard America's interests and to "shift the blame on the victim"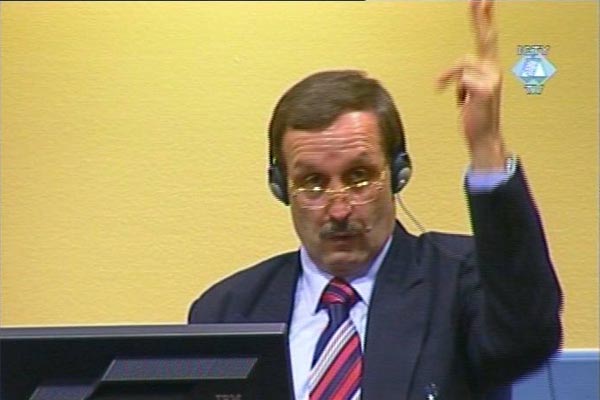 Milan Martic in the courtroom
Concluding its closing argument, the defense denied once again the existence of joint criminal enterprise and Martic's responsibility for any crimes. The relationship between Milan Martic and Slobodan Milosevic, the alleged leader of the joint criminal enterprise, was not "a relationship between two criminals" but "two serious men" who protected their people, the defense contends.
Defense counsel Predrag Milovancevic says Martic is "a wrongly accused innocent president of a refugee nation", who "cannot be called a criminal but a hero". The only just decision for a "hero" of his kind would be for the Trial Chamber to acquit him of all nineteen counts of the indictment.
After the prosecution and the defense presented their closing arguments, the Trial Chamber heard the accused Milan Martic himself. At the time when he surrendered voluntarily, the former RSK president said, he had been indicted only for the rocket attack on Zagreb. After his arrival in The Hague, the prosecution amended the indictment to include "everything and then some", copying in effect "the lies published about [him] in the Croatian media". The "everything and then some" refers to the murder of several hundred civilians and the expulsion, detention and torture of thousands of civilians in Croatia and BH between 1991 and 1995.
Martic accuses the USA of taking active part in the expulsion of the Serbian population from Krajina, and he is convinced that the senior trial attorney Alex Whiting, who is from the USA, had the task of "justifying his state by shifting the blame on the victim". Martic understands why the prosecutor has asked for a life sentence for the crimes in Croatian and Bosnian Krajina and the attack on Zagreb. The "prosecutor is a young man" and it will be good for his future career to have this under his belt.
As he spoke about the USA and its influence in the region, Martic made a remark that was later redacted from the transcript at the behest of the presiding judge. Judge Moloto explained he had done so because of Martic's inappropriate remark about "someone's pants", without going into any details.
Martic's trial was concluded today and the Trial Chamber is expected to render its decision in the next few months.