Home
NO ACQUITTAL AND NO APOLOGY FOR MARTIC
Trial Chamber dismisses the motion to acquit Milan Martic on all counts in the indictment, filed by his defense counsel. The defense will start answering the prosecution case on 11 July because the Chamber refused to postpone the start of Martic's case until 15 September, noting it "will not be held hostage by the accused"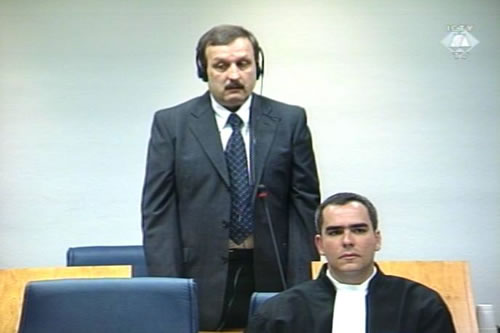 Milan Martic in the courtroom
There are no grounds for Milan Martic's acquittal, the Trial Chamber, with Judge Bakone Moloto presiding, concluded today. Last week the Chamber heard the arguments of both parties about the evidence presented by the prosecution in the first half of the trial of the former police minister and president of the Republic of Serbian Krajina (RSK).
During the 98 bis hearing, the defense called for Martic to be acquitted on all counts for lack of evidence. His lawyer also called for an apology to be offered his client by the prosecution for having charged him at all.
The Chamber concluded, however, that the prosecution had proved the existence of a joint criminal enterprise, and that Martic could be convicted on all counts in the indictment, if the defense failed to present any evidence. The presiding judge noted that, contrary to the claims by Martic's defense, a joint criminal enterprise "does not call for the existence of a plan, but of a joint objective". According to the indictment, the joint objective was the expulsion of the Croat and Muslim population from one third of Croatia and parts of Bosnia and Herzegovina between 1991 and 1995.
The judges decided that there was evidence to conclude that Milan Martic had held prominent positions in the RSK, and had been in constant contact with Belgrade. The Chamber also decided there was "substantial evidence" about Martic's effective control over the police, the Serbian Army of Krajina and special police units. The evidence presented indicates that the units under Martic's control "terrorized the local non-Serb population" to such an extent that it became impossible for them to remain in the territory. That is why, in the view of the Chamber, Martic could be found guilty and convicted of murder, deportation and forcible transfer of the population, wanton destruction and plunder of property and detention, torture, inhumane acts and cruel treatment of the non-Serb population.
Before communicating its decision on Rule 98 bis, the Chamber dismissed the motion filed by defense counsel Predrag Milovancevic, asking for the defense case to start on 15 September, rather than 11 July this year. The motion originated from Martic himself. He had ordered his defense counsel in writing "not to start the case until he is ready". Since the defense counsel continued to press for the deferral of the case even after he heard the decision, Judge Moloto explained to him that "different formulations of the same things do not mean different things", warning the defense lawyer he was "bordering contempt of court".
Concluding that the "Chamber will not be held hostage to the wishes of the accused", Judge Moloto scheduled the pre-defense conference for Friday, 7 July.