Home
SESELJ CONTINUES TO REFUSE TO USE COMPUTERS
Preparations for the trial of Vojislav Seselj enters its final stage. Even if the accused refuses to agree to disclosure of evidence in electronic form, the Chamber will consider that the prosecution has fulfilled its obligation in that respect. The accused indicates he will be challenging many of the facts adjudicated in the final judgments in other cases before the Tribunal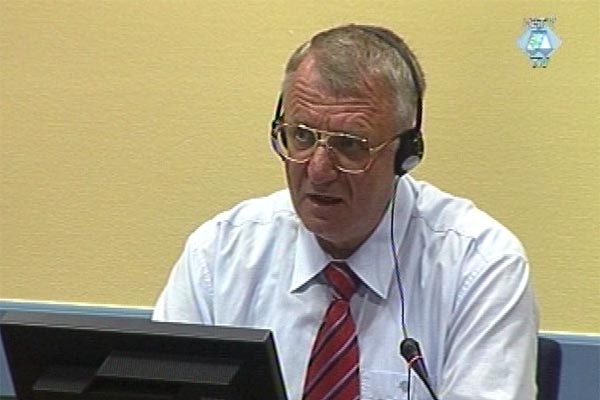 Vojislav Seselj in the courtroom
Preparations for the start of Vojislav Seselj's trial, scheduled for the first half of October, have now entered the final stage. At a status conference today, Judge Alphons Orie rendered the decision of the Trial Chamber on the form in which evidence may be disclosed to the accused. The prosecution is allowed to disclose the evidentiary and exculpatory material to Seselj in electronic forms, on compact discs, as is the usual practice with all the other accused and their defense counsel. If the accused refuses to acknowledge the electronic disclosure, the Chamber will consider that the prosecution has fulfilled its obligation in that respect, it is stated in the decision.
Today, Seselj responded to this decision with a question, "What am I supposed to do with the compact discs, they're of no use to me". This time, Seselj did not say that he didn't want to use computers because he was afraid of electric shocks, but because he was not allowed to forward the evidence to his legal counsel. His counsel have not been officially accepted by the Registry. He also asked leave to file an appeal against the decision the Chamber delivered today.
Telling Seselj it was up to him to decide whether he wanted or not to look at the materials disclosed to him by the prosecution, Judge Orie instructed him to file his application seeking leave to appeal in writing and to state the reasons why he wants the Appeals Chamber to intervene.
Prosecution representatives notified the Chamber that they had "tried to disclose" the compact discs containing about 280,000 pages of evidence, including exculpatory material, and had forwarded to him 65 witness statements in which the name of the accused is mentioned. The prosecution also filed a new pre-trial brief based on the amended indictment, lists of witnesses and exhibits and a list of adjudicated facts. Since Seselj announced that he would be challenging many of the adjudicated facts, Judge Orie gave him six weeks – until 15 August – to prepare a brief on this issue. The Chamber will decide at a later date on the deadline for Seselj to prepare briefs challenging expert reports on the impact of media propaganda and Greater Serbia ideology in the 19th and 20th centuries.
When the judge asked him about the conditions of detention, Seselj complained that the Detention Unit management had "confiscated a shipment of shirts, jerseys, hats and socks bearing Serb national emblems" sent to him on the occasion of the world football championship. "The other inmates, even the Dutch guards, may wear their national team kits," he added.