Home
WHAT THE REGISTRAR "GUARANTEED" SESELJ?
Vojislav Seselj claims the ICTY Registrar has given him "written guarantees" putting out of force some of Trial Chamber's decisions. Today, however, the Trial Chamber reminded the accused that the decisions remain in effect until "modified, withdrawn, or reversed" by the Trial Chamber itself or by the Appeals Chamber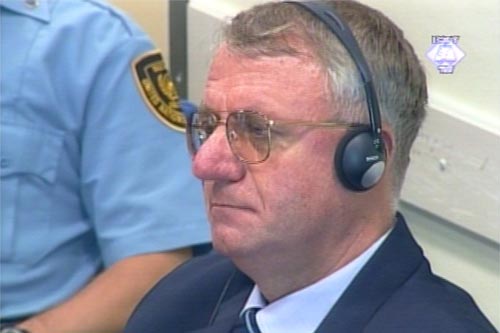 Vojislav Seselj in the courtroom
Either Vojislav Seselj misinterpreted the "written guarantees" he claims to have received from the ICTY Registrar, or the Registrar did promise him something that is outside his jurisdiction.
This can be concluded from an order made public today, reaffirming that some of the Trial Chamber's decisions remain in effect. Seselj, on the other hand, thought that the above mentioned Registrar's guarantees had in effect revoked them.
In a letter of 9 January 2007, Seselj withdrew his motion seeking leave to appeal against some of the previous decisions of the Trial Chamber. As he explained, he had since received "written guarantees from the Registrar that he would receive all the documents in Serbian and that only afterwards can they be included in the case file".
According to the Chamber's order, the withdrawal of the motion seeking leave to appeal is "the choice of the accused". The decision on the way in which the evidence is to be disclosed issued by the Trial Chamber on 4 July 2004 remains in effect: the prosecution is allowed to disclose the evidence to the accused in "electronic form". The Registry is, however, obliged to offer all "hardware, software and training support" to the accused. Seselj's attention is drawn to the fact that the decision remains in effect until "modified, withdrawn, or reversed" by the Trial or Appeals Chamber". The same applies to the decision of 22 November 2006 which allows the prosecution to disclose the audio material to the accused on compact disks.
As his letter of 9 January 2007 shows, it seems that Seselj misinterpreted the fact that the appeal
and response deadlines will be calculated from the date he receives the documents in Serbian, concluding that the motions in the Tribunal's official languages (English and French) will be made part of the record only after they have been translated into Serbian. The Trial Chamber finds this totally inappropriate, informing Seselj that as he awaits the translation, he can be briefed about the contents of the prosecution motions of Trial Chamber's decisions by his legal advisors or his "case manager" Marina Ragus. Her application, submitted to the Registry, notes that "her knowledge of English has been declared as excellent".