Home
VOJISLAV SESELJ TO RE-ENTER HIS PLEA SOON
Since the amended indictment against Vojislav Seselj contains new charges the accused should plead on, the re-appearance of the Serbian Radical leader will be scheduled soon. The decision on the prosecution motion to join the cases against Seselj, Martic, Stanisic and Simatovic will be rendered "relatively soon," the judge announced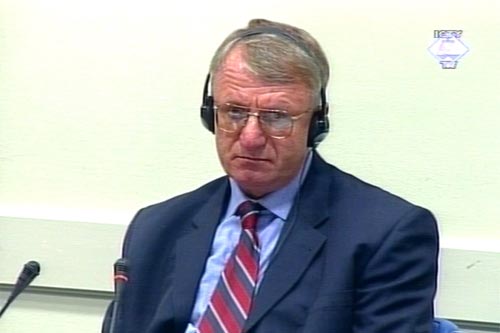 Vojislav Seselj during a status conference
The decision on the prosecution motion to join the cases against Vojislav Seselj, Milan Martic, Jovica Stanisic and Franko Simatovic will be rendered "relatively soon", Judge Agius announced at today's status conference in the case against the Serbian Radical leader Seselj, charged with crimes against humanity in Croatia, Bosnia and Herzegovina and Vojvodina.
Before the decision is rendered on the joinder of those cases, Seselj will have to enter his plea on the allegations in the amended indictment. The date for his re-appearance will be set later. Seselj insisted today that it be "before the full bench" (not before a single judge, as it was at his initial appearance), and that the entire indictment be read to him, with all the appendices, including the lists of victims. The judge said that the second demand of the accused would be accommodated.
The pre-trial judge also noted that the Chamber would soon be rendering its decision on the modalities for the disclosure of the exculpatory evidence to Seselj. The prosecution has tried to disclose the materials in electronic form (on CDs) several times, but Seselj refused them, demanding that all the materials be disclosed to him "on paper and in Serbian" as he cannot use the computer and is afraid of electrical shocks.
At the previous status conference in late May 2005, the accused complained that because of the bad air quality in the Detention Unit he had problems with allergy and asthma. The Registry subsequently appointed two experts – for allergies and air quality – to investigate the situation. They filed their reports with the findings. Since the pollen count was done in the period when its concentration is not high, Seselj today accused the Registrar of "deliberately waiting until the pollen season passed".
The accused also presented several objections to Timothy McFadden, the UN Detention Unit commanding officer, accusing him of "systematic maltreatment" because he would not photocopy his manuscripts, offering him a laptop computer instead. Noting that Seselj was the first accused to object to the UNDU commander, the judge ordered that the part of the transcript of today's hearing be forwarded to McFadden to enable him to reply if he saw fit.