Home
SESELJ FAILS TO ENTER PLEA ON AMENDED INDICTMENT
Because he had not had the opportunity to consult his "expert defense team", as he said, Vojislav Seselj postponed by 30 days entering his plea of guilty or not guilty to the crimes he is charged with in the amended indictment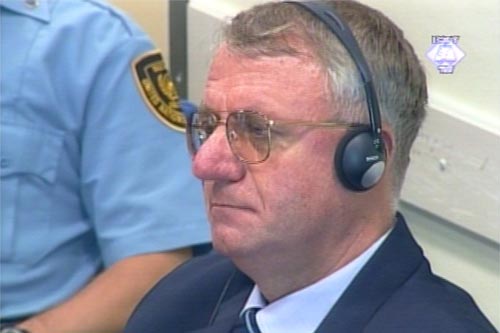 Vojislav Seselj in the courtroom
Vojislav Seselj did not enter his plea to the charges in the amended indictment read out to him in full today, including the appendices containing the names of 578 victims of the crimes he is charged with.
After hearing it all, Seselj said he had not had the opportunity to consult his "expert defense team" from the moment the new indictment was handed to him and was therefore unable to plead today to the crimes the prosecutor has charged him with. He added that members of his "expert team", Tomislav Nikolic and Dragan Todorovic would be visiting him in mid-October and that he would be ready to enter his plea after consulting them. Judge Agius ordered a new appearance to be scheduled in 30 days, ordered the guards to escort the accused from the courtroom and adjourned the session that lasted three full hours.
Seselj did a similar thing at his initial appearance at the Tribunal on 26 February 2003, After thirty days, he pleaded not guilty to any of the 14 counts in the initial indictment charging him with crimes against humanity and violations of laws and customs of war committed in 1991 and 1992 in Vukovar and Vocin in Croatia, Bosanski Samac and Zvornik in BH and the village of Hrtkovci in Vojvodina. In the meantime, the indictment was amended to include the crimes committed by "Seselj's men" or "Chetniks" in greater Sarajevo, Bijeljina, Mostar and Nevesinje.
Although the new indictment contains allegations of new crimes, the leader of the Serbian Radicals is again charged in 14 counts. They allege persecutions on political, racial and religious grounds, extermination, murder, detention, torture, cruel treatment, deportations, forcible transfer of the population and wanton destruction and plunder of public or private property.