Home
SESELJ "UNABLE" TO ENTER PLEA
Because he had not had an opportunity to consult his "expert defense team", Vojislav Seselj did not enter his plea to the counts of the amended indictment. The judge proceeded to enter a plea of not guilty to all 14 counts of the indictment in his stead. This appearance of the accused before the Tribunal broke all records of brevity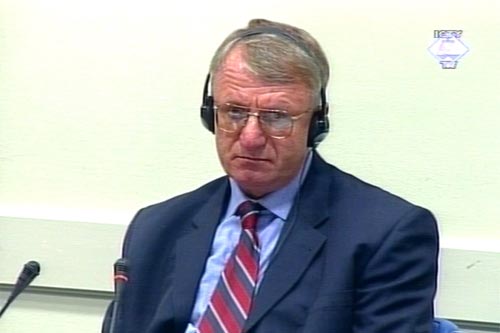 Vojislav Seselj during a status conference
On 3 October 2005, Vojislav Seselj exercised his right to postpone entering his plea to the counts of the amended indictment by 30 days. This morning, he was brought before Judge Carmel Agius again. The judge invited him to stand up and plead – either guilty or not guilty – to the crimes the prosecution is charging him with.
Seselj refused to stand up, saying he is "not able to enter his plea" because he had been "unable to communicate with his legal counsel". He had wanted to consult them on how to plead. The head of his "expert defense team", Tomislav Nikolic, had been "prohibited", as Seselj said, from visiting Seselj in the Detention Unit, while he could only talk to his deputy, Dragan Todorovic, in the presence of "court clerks who speak Serbian".
The second reason Seselj quoted for his inability to enter the plea is the "violation of the Statute" which stipulates, in his interpretation, that the accused should enter their plea "before a full bench", not before a single judge.
Seselj was ready to speak for longer, but the judge interrupted him, stated for the record that he was entering a plea on not guilty to all 14 counts of the amended indictment on behalf of the accused, adjourned the session and left the courtroom, leaving an astounded Seselj in the dock. The whole affair was over in five or six minutes, breaking all records of brevity, not only for Seselj but for any of the accused before the Tribunal.
In the initial indictment issued in January 2003, the leader of the Serb Radicals was charged with the crimes in Vukovar and Vocin in Croatia, in Bosanski Samac and Zvornik in BH and Hrtkovci in Vojvodina. Seselj entered his plea to the counts in that indictment on 25 March 2003. To all of the 14 counts charging him with crimes against humanity and violations of laws and customs of war, he responded, "not guilty".
The prosecution had in the meantime obtained new evidence and amended the indictment to include the crimes committed by Seselj's men or Chetniks in the five municipalities of greater Sarajevo, in Bijeljina, Mostar and Nevesinje. The Serb Radical leader is charged with persecution on political, racial and religious grounds, extermination, murder, detention, torture, cruel treatment, deportation, forcible transfer of population and wanton destruction and plunder of public or private property.