Home
ACCUSED FAILS TO SHOW UP FOR TRIAL
Josip Jovic, former editor-in-chief of the Slobodna Dalmacija daily, charged with contempt of court, failed to appear for his trial this morning. The trial has been postponed until 11 July. If the accused fails to show up then, the Chamber will issue a warrant for his arrest and detention on remand until a new trial date is set, after the recess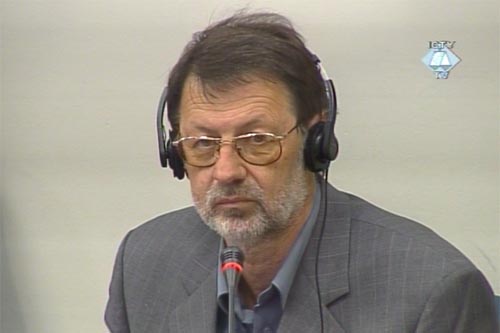 Josip Jovic in the courtroom
After the accused Josip Jovic failed to appear in court today, his contempt of court trial has been postponed until 8 a.m., 11 July. If Jovic fails to show up again, the Chamber will issue a warrant for his arrest and detention on remand until a new trial date is set, after the end of summer recess. This year, the recess will last from 14 July until 7 August.
Judges Robinson and Kwon voted in favor of this decision, while Judge Bonomy wanted the Chamber to grant the motion filed by the prosecution, calling for an arrest warrant to be issued today, in order to make sure Jovic is present in court next week.
This was the second time Jovic failed to appear before the ICTY. Last September, the former editor-in-chief of the Split daily Slobodna Dalmacija did not appear at his initial appearance where he was to enter his plea on the counts of the indictment charging him with contempt of court following his publication of the identity and testimony of protected witness Stjepan Mesic, who had testified in closed session at the trial of Tihomir Blaskic. On that occasion, the Chamber issued an arrest warrant and after spending a week in jail in Split, Jovic appeared before the ICTY on 14 October last year, pleading not guilty to the charges.
Defense counsel Kresimir Krsnik claimed that Jovic was absent today because of his wife's health problems, adding that in the last two weeks, since the time the trial was set, Jovic had been unable to find anyone to take care of her during his stay in The Hague. The Social Welfare Centre in Split said it was "unable" to take care of her in the three days, and her sons live far away. One lives in the new part of Split and the other in Solin, "15 to 20 km" from Jovic's home, as Krsnik described it. For all those reasons, Jovic is "so stressed that he would probably have been unable to follow the proceedings if he had come to the trial".