Home
BLAIR AND SCHROEDER WILL NOT TESTIFY AT MILOSEVIC TRIAL
Judges dismiss the application of assigned counsel for the issuing of binding orders to the United Kingdom and Germany - a subpoena to Blair and Schroeder to provide testimony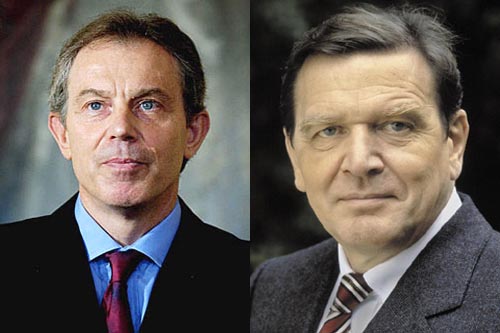 Tony Blair and Gerhard Schroeder won't testify in the Milosevic case
British prime minister Tony Blair and former German chancellor Gerhard Schroeder will not be called to testify at the trial of Slobodan Milosevic. The Trial Chamber dismissed the confidential application made by assigned counsel for the issuing of binding orders to the authorities of the United Kingdom and Germany directing them to provide the witnesses or of subpoenas to Blair and Schroeder to provide testimony.
In the detailed statement of reasons of the decision, the judges state that the assigned counsel failed to identify issues in the indictment to which Blair's and Schroeder's testimony would be relevant and how the testimony could "materially assist [the accused] in his case".
Although "lack of specificity" is reason enough to dismiss the application, the Chamber "in the interest of comprehensiveness" analyzed each of the 16 "categories of testimony" or topics Milosevic would want to question Blaire and Schroeder about, such as his "policy of establishing peace in the region", the "British and German support to NATO and KLA aggression," and "conscious spreading of false information in the Western media in order to create a false picture of the living conditions and reasons for the exodus of the Kosovo Albanians". None of those topics, the Chamber concludes, does not meet the criteria for the issuance of a subpoena.
Apart from Blair and Schroeder, Milosevic's list of "hostile witnesses" contains the names of former US president Clinton and former NATO commander General Clark. It is not known whether the assigned counsel have applied for the issuance of binding orders or subpoenas for the two or whether they have the promise that Clinton and Clark would appear before the court voluntarily.