Home
MILOSEVIC ASKS 380 HOURS MORE FOR HIS EVIDENCE
The prosecutor warns that to grant the demand would be to create "a non-realistic situation in which the trial would last for a very long time or perhaps would not end at all". According to him that "might be what the accused wants". Judge Robinson labels Milosevic's demand "frivolous and irresponsible"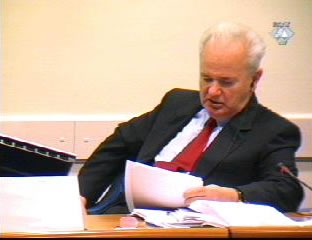 Slobodan Miloševic during the cross examination
Slobodan Milosevic invoked today international covenants and conventions on human rights to support his demand for 380 more hours he needs to examine the remaining 190 defense witnesses. Labeling his demand "frivolous and irresponsible", Presiding Judge Robinson accused Milosevic of "cynically ignoring the duty of this court to ensure a fair and expeditious completion of the proceedings".
Since the beginning of Milosevic's defense case in September 2004, the judges have warned him countless times to be careful how he is using the 360 hours allotted to him for the examination of his witnesses. They have stressed repeatedly that he would not be given more time. Milosevic has ignored the warning and has used about eighty percent of the time he got to contest the prosecution's Kosovo evidence. He has touched on the charges for the crimes against humanity in Croatia and genocide in BH only in passing.
Prosecutor Geoffrey Nice reminded the court of the fact today at the hearing on the demand of the accused to get more time for his case. Urging the judges to stand by their initial decision on the length of time allotted for the defense case, the prosecutor noted that the Chamber has been "courteous" to the accused right from the start, "in the sense of respecting him as a man of intelligence" who is able to understand what the judges are saying. Nice believes "there is no reason to deviate from that line… unless the Chamber takes the view that the accused is been incapable intellectually in receiving advices and information that were so regularly given to him by the chamber".
Judge Bonomy labeled as "unrealistic" Milosevic's assessment that he would need 380 hours to examine the remaining 190 witnesses. He noted that the accused had managed to call just 45 witnesses so far. Their examination lasted, as a rule, two to three times longer than anticipated. According to the prosecutor, additional 380 hours for Milosevic's examination-in-chief of those witnesses and 60 percent of that time for the cross-examination would in practice require the trial to last three or four more years, in light of the short working hours (four hours a day three days a week). To grant the demand would be to create "a non-realistic situation which will lead to the trial either never ending or almost never ending which might be what the accused wants".
The Chamber is expected to deliver its decision before the three-week recess starting at the end of next week.