Home
MIROSLAV BRALO SENTENCED TO 20 YEARS IN PRISON
Former HVO military police officer pleaded guilty last July to participation in the attack on Ahmici on 16 April 1993, the destruction of the village mosque, 21 murders, multiple rape of a Bosniak woman and unlawful detention of civilians. Had it not been for the mitigating circumstances, the Trial Chamber states in the summary of the sentencing judgment, Bralo would have been sentenced to at least 25 years in prison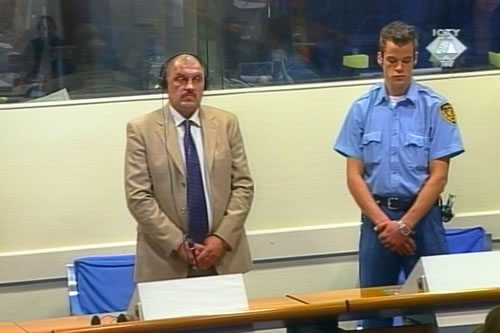 Miroslav Bralo aka Cicko in the courtroom
Describing the crimes Miroslav Bralo was accused of and that he pleaded guilty to as " extremely serious", "appalling" and "of a most depraved nature", the Trial Chamber III sentenced him today to 20 years in prison.
The former member of the HVO military police pleaded guilty last July to participation in the attack on Ahmici on 16 April 1993, the destruction of the village mosque, 21 murders, multiple rape of a Bosniak woman and unlawful detention of civilians. Bralo's guilty pleas to the charges in all eight counts of the indictment were unconditional. He did not get any concessions or promises from the prosecution, which asked for 25 years in prison without parole. This meant that in reality Bralo would be sentenced to 37 years in prison: it is common practice for ICTY convicts to be released after they have served two thirds of their sentence.
In determining the sentence, the Chamber started from the gravity of the crimes committed by Bralo, Presiding Judge Bonomy explained this morning. The Chamber found that this was a "a range of appalling crimes, which must be condemned unequivocally". The Chamber noted as a particularly aggravating factor the effects of Bralo's crimes on his victims, their "shattered lives and livelihoods" and "the tremendous ongoing pain and trauma" they are experiencing. Addressing Bralo, Judge Bonomy said, "there can be no excuse or justification for your actions, nor can your reasons for abusing so many people be fathomed".
If there had been no mitigating factors, the Chamber would have imposed a sentence of at least 25 years, the presiding judge said. The Chamber concluded, however, that there were factors in favor of a less severe sentence, such as his guilty plea, his sincere remorse, voluntary surrender and Bralo's offer to help identify locations where the victims of his crimes had been buried. Taking those circumstances into account, the Trial Chamber imposed a sentence much lower than the one sought by the prosecution.
This is the seventh sentence Trial Chamber III has imposed on "penitents". This Chamber consists of judges Robinson and Kwon and Jude Bonomy replaced the late Judge May on the panel. With the exception of Predrag Banovic, who was given eight years – the sentence sought by the prosecution, in all the other cases the Chamber departed downwards from the recommendations made by the prosecution. The greatest departure was in the case of Biljana Plavsic. She was sentenced to 11 years in prison although the prosecution asked for 15 to 25 years in prison.