Home
BRALO: "NOT GUILTY"
After he exercised his right to delay entering his plea at his initial appearance on 15 November, Miroslav Bralo today pleaded not guilty on any of the 21 counts of the indictment charging him with grave breaches of the Geneva Conventions and violations of laws and customs of war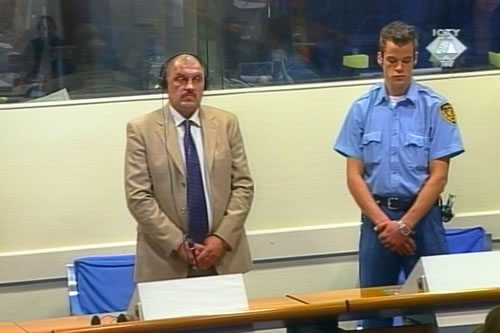 Miroslav Bralo aka Cicko in the courtroom
Miroslav Bralo a/k/a Cicko pleaded not guilty today on any of the 21 counts of the indictment charging him with crimes against Bosniak civilians committed between April and June 1993 in Central Bosnia. At that time, Bralo was a member of the Jokers unit – a special unit of the HVO Military Police. He has been charged with multiple rape and brutal sexual assaults on a detained Bosniak woman, unlawful detention of civilians and their use for trench-digging and as human shields, and with the murder of three detained Bosniak civilians. These crimes are qualified as grave breaches of the Geneva Conventions and violations of laws and customs of war in the indictment.
Some of the crimes described in the indictment against Miroslav Bralo have already been discussed before the Tribunal. The commander of the Jokers unit at the time, Anto Furundzija, was found guilty of aiding and abetting in one of the rapes and torture that Bralo is charged with and was sentenced to 10 years in prison.
The name of Miroslav Bralo cropped up in the testimony of victims and witnesses of the crimes at the trials of Tihomir Blaskic, Dario Kordic and Mario Cerkez, former HVO commanders and political leaders in Central Bosnia. Some of the witnesses described Cicko as a "walking terror" who used to threaten the Bosniak detainees with a bloody knife, telling them that he had "slaughtered people in Ahmici" and that he would "slaughter them again."
Since Bralo has pleaded not guilty, the burden to prove the allegations in the indictment is now on the prosecutor. In light of the Tribunal's exit strategy and a long waiting list of cases to be tried, it is to be expected that Bralo's case will soon be put on the list of candidates for trial before the War Crimes Chamber at the BH State Court.