Home
BRALO POSTPONES ENTERING HIS PLEA
At his initial appearance, the accused Miroslav Bralo a/k/a Cicko requests postponing his plea by 30 days. The prosecution charges him with cruel treatment, murder and rape in the Lasva River valley in 1993.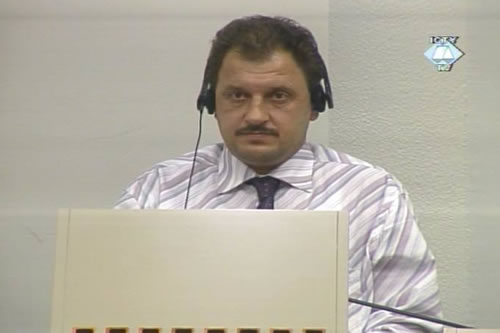 Miroslav Bralo - Cicko in the courtroom
Miroslav Bralo will enter his plea to the charges against him within 30 days of today's initial appearance.
Upon arrival in the detention unit, accused are taken before a judge as soon as possible, although they do not have to enter their pleas immediately. The date of Miroslav Bralo's second appearance will be set later. He was transferred to The Hague on Friday, 12 November, after he surrendered to representatives of the international community in BH last week.
The accused appeared before Judge Muhamed El-Mahdi, who asked the prosecutor to provide certain clarifications regarding allegations in Bralo's nine-year-old indictment. Prosecutor Ken Scott indicated that the original indictment contained four names: in addition to Bralo and Anto Furundzija--former commander of the Jokers, a special unit of the HVO Military Police – two other people had been indicted for the same crimes. Their indictments, however, were withdrawn in 1998 and 2002.
In May 1993, a Bosniak woman was detained at the base of the Jokers unit in the village of Nadioci. According to the indictment, this victim was raped and sexually assaulted repeatedly by Miroslav Bralo, who also threatened the victim with a knife and a gun. During her detention in the "bungalow," the victim was questioned by Anto Furundzija, who was present when Bralo abused the witness; yet, says the indictment, he "did nothing to prevent or stop him." Because of his "aiding" in the commission of the crime, Furundzija was sentenced to 10 years in prison; he served two thirds of his sentence.
Bralo is also charged with forcing Bosniak civilians to dig trenches and perform Catholic religious rites as they did so in April and May 1993. He is charged, too, with using civilians as human shields.
The indictment alleges that three captured Bosniak civilians—all Muslims--were beaten and tortured by being force-fed salt and water on Miroslav Bralo's orders. Several hours later, "Miroslav Bralo and an assistant armed with rifles took the same three Muslim civilians into a wooded area and killed them."
The cruel treatment, murder and rape Bralo is charged with have been qualified as violations of the laws and customs of war and grave breaches of the Geneva Conventions.