Home
BRALO ASKS FOR A MILDER SENTENCE
Miroslav Bralo thinks his 20-year prison sentence should be reduced due to his "substantial cooperation" with the prosecution. The prosecution is opposed to any reduction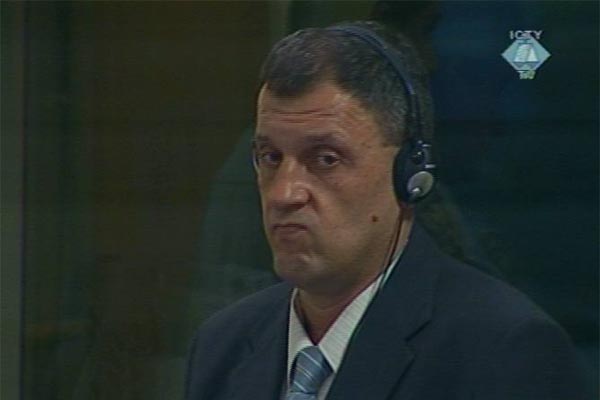 Miroslav Bralo in the courtroom
Miroslav Bralo, former member of the HVO special unit called the Jokers, pleaded guilty in July 2005 to the attack on Ahmici, destruction of the village mosque, killing 21 persons, persecution of the civilian population and rape of a Bosniak woman. Six months later, he was sentenced to 20 years in prison. The Appeals Chamber today heard the arguments of both sides in relation to Bralo's appeal.
In three grounds for appeal, Bralo claims the Trial Chamber erred in law and went beyond its discretionary power because the sentence it imposed was "too harsh". The defense counsel believes the Chamber gave insufficient weight to the cooperation of the accused with the prosecution. His cooperation was "substantial and moderate in scope", not only moderate as the prosecution claimed today. The judges found this argument was a play on words and noted that the cooperation couldn't be "substantial and moderate" at the same time.
The defense counsel believes that the Trial Chamber failed to take into account other mitigating circumstances such as the personal circumstances of the accused and his "sincere remorse".
The prosecution however called upon the Chamber to dismiss all the grounds for appeal presented by the defense. Noting Bralo is responsible for a series of "brutal and degrading acts", the prosecution concluded that the accused "pleaded guilty and deserves to be punished". A milder sentence would be "an injustice to the victims and the survivors".
At the end of the appellate hearing, the accused addressed the Chamber. "I feel obliged to repeat my sincere admission of guilt, to express my remorse and to apologize to the victims I have harmed in any way", Bralo said.
The Appeals Chamber will deliver its judgment at a later date.