Home
MILOSEVIC TRIAL ADJOURNED UNTIL 29 NOVEMBER
The adjournment was recommended by Dr. Falke, the physician of the UN Detention Unit. He notes that last week the accused had "unacceptably high blood pressure" and that it will take a while to stabilize it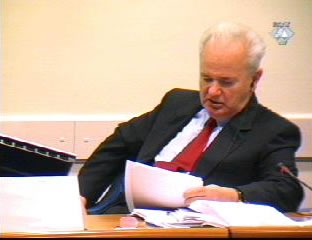 Slobodan Miloševic during the cross examination
After studying the report by Dr. Falke, physician in the UN Detention Unit, the judges adjourned the trial of Slobodan Milosevic until Tuesday, 29 November 2005. The adjournment was recommended by Dr. Falke, who noted that last week the accused had had "unacceptably high blood pressure", which would take time to stabilize.
The judges also ordered the Registrar to set up an appointment for Slobodan Milosevic to be examined by Dutch cardiologist Dr. Van Dijkman, and to obtain his report on the current medical condition of the accused and on whether he believes that this medical condition will recur.
The Chamber, it is noted in the decision rendered today, received the expert report it asked from Dr. Van Dijkman, but did not find what it was looking for in it. In its order of 15 November, the Chamber invited the Dutch cardiologist to state his views on the assessment by Dr. Shumilina, vascular specialist from Russia, who examined the accused as one of the three doctors (one from Russia, France and Serbia each). She stated that Milosevic's treatment was "inadequate" and recommended "additional tests". The Registrar was ordered to obtain a new report from Dr. Van Dijkman in which he would address Dr. Shumilina's views.
Noting that "chronic cardio-vascular problems of the accused have not affected the pace of the trial of three working days per week in the past year", the judges in fact replied to the request made by the prosecutor today to "consider alternative ways to proceed with the trial". The judges apparently do not believe that this is a situation the Appeals Chamber envisaged when it decided on 1 November 2004 that if Milosevic's health were to deteriorate substantially as the trial continued – "the presence of assigned counsel could make it possible to continue with the trial even if the accused is rendered temporarily unable to participate in it".
This is the fifth time that Milosevic has gone sick since the beginning of the year, and the longest. On previous occasions, he was out of courtroom from between one and three days. To date, eleven and a half trial days have been lost. Five days this and next week should be added to this sum, until 29 November, when the accused is set to return to courtroom.