Home
PROSECUTION CHARGES RASIM DELIC WITH CRIMES IN HERZEGOVINA
The prosecution has submitted for confirmation an amended indictment against General Rasim Delic, charging the former commander of the BH Army Main Staff, with the crimes committed by forces under his command in Doljani, Grabovica, Uzdol and Bugojno, in addition to the crimes committed by the mujahedin in Central Bosnia, as alleged in the original indictment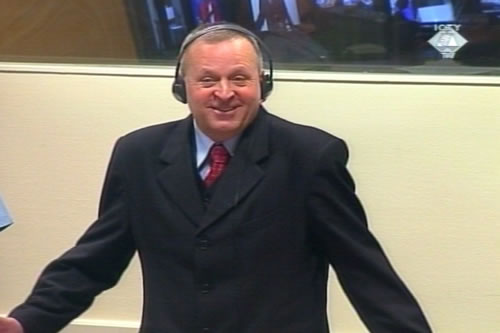 Rasim Delic in the courtroom
In the original indictment, General Rasim Delic, former commander of the BH Army Main Staff, was charged with the crimes committed by the El Mujahid unit against Croats and Serbs in Central Bosnia. Now the prosecution proposes to add new allegations for murder and cruel treatment committed by BH Army troops against Croat civilians and captured HVO troops in the villages of Doljani, Grabovica and Uzdol in Herzegovina and in the town of Bugojno.
As the amended indictment alleges, several civilians were killed in the attack on the village of Doljani by members of the 44th Mountain Brigade. Among them was Igor Lebo, a boy of sixteen years. They shot him in the leg and then prevented those assembled there from helping him. When Ruza, the boy's mother, tried to help her son, the soldiers shot him twice in the back, killing him. Martin Ripic, a man suffering from a mental disorder, was found on the terrace of their family home by his son. His throat had been "cut from ear to ear". The surviving residents of Doljani were either imprisoned or expelled.
During Operation Neretva '93, BH Army units committed crimes against the residents of the villages of Grabovica and Uzdol. Sefer Halilovic has already stood trial for those crimes before the Tribunal. In his 2001 statement to the prosecution, admitted into evidence at his trial, he shifted all the blame for the murders in Grabovica and Uzdol on Alija Izetbegovic, Bakir Alispahic and Rasim Delic. Halilovic will receive judgment on 16 November 2005.
Delic is also blamed for the fate of 22 captured HVO members who were taken from the prison in Bugojno in the direction of Ravno Rostovo. One of the prisoners managed to escape, one body has been found and the others are all considered dead, the proposed amended indictment alleges.
Delic is charged with all the crimes, both in the initial and in the amended indictments, on the basis of command responsibility, because he knew about them, yet failed to investigate them and punish the perpetrators. The new indictment will enter into force if the Trial Chamber confirms it.