Home
GENERAL DELIC PLEADS NOT GUILTY
Former Commander of the BH Army Main Staff pleads not guilty on all four counts of the indictment, in which he is charged – on the basis of command responsibility – for murders, cruel treatment and rapes committed by soldiers under his command, as the prosecutor alleges. The Registry will not appoint the Sarajevo lawyers of his choice as his defense counsel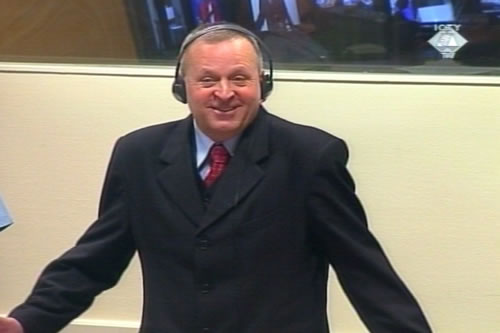 Rasim Delic in the courtroom
After he surrendered voluntarily to the ICTY on Monday, General Rasim Delic, former Commander of the BH Army Main Staff, pleaded not guilty today on any of the four counts of the indictment charging him with murder, cruel treatment and rape.
The indictment alleges that the crimes were committed against prisoners of war and civilians in 1993 and 1995 in the villages of Maline and Livade and in the Kamenica camp. The alleged perpetrators were members of the El Mujahid unit. The prosecution claims it was under the command and control of the BH Army. General Delic is charged with violations of laws and customs of war, on the basis of command responsibility alone: because he had received reports of the crimes committed by his subordinates, yet failed to take reasonable measures to punish the perpetrators.
At his initial appearance before the Tribunal, held unusually early – at 8 a.m. – due to the busy schedule of the judges, General Delic was represented by Canadian lawyer Stephane Bourgon as his temporary defense counsel. Bourgon is currently defending General Enver Hadzihasanovic. He was appointed to Delic because the ICTY Registry refused to appoint Sarajevo lawyers Vedrana Residovic and Asim Crnalic, chosen by the accused. The reason given was possible conflict of interest.
Having entered his plea, General Delic expressed hope that the problem with the appointment of defense counsel would be solved soon, as there was no conflict of interest. He added that he was happy with the treatment in the UN Detention Unit. "Everything is fine", he said.
Photos