Home
KRAJISNIK – "A BUSINESSMAN WITH NO POWER"
Momcilo Krajisnik's defense counsel shifts the blame to SDS politicians who have already been convicted, are in hiding or dead. Furthermore, the witness, former minister in the Bosnian Serb government claims he has never before heard of the versions A and B and of the camps in Pale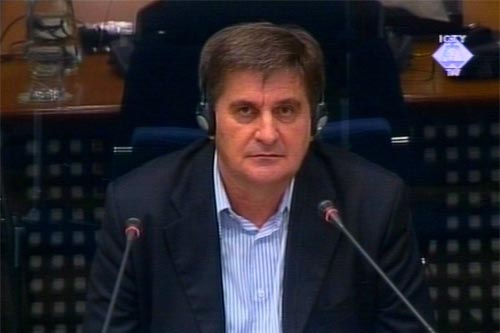 Bozidar Antic, defense witness for Krajisnik
"In 1992, the Republika Srpska Army was controlled by the core rather than the extended presidency," said Bozidar Antic today, testifying as Momcilo Krajisnik's defense witness. He was the minister of economy in the Government of the Serbian Republic of Bosnia and Herzegovina (SRBiH) at the time. He explained that the core presidency comprised Radovan Karadzic, Nikola Koljevic and Biljana Plavsic, while the extended presidency, which included Krajisnik was a "consultative" body. He thus confirmed the defense argument that the accused did not have executive power.
In the course of the prosecution case, several SDS insiders testified that Krajisnik was undoubtedly number two politician in Pale, second only to Karadzic, or even at the same level. According to Milan Trbojevic, who was Antic's colleague in the first war-time Bosnian Serb government, Karadzic and Krajisnik were "two men in one body" and they had "almost absolute power over the military, police and the judiciary". Antic claims, however, that Krajisnik did not participate in the executive government, and that he would meet the accused, who was "a prominent businessman only to consult him on the functioning of the economy". He described Krajisnik as a conciliatory politician, adding that "Muslim wanted to negotiate with him".
Antic said today that he had never before heard of the Instruction for the Organization and Operation of the Organs of the Serb People in Bosnia and Herzegovina in Emergency Situations, an SDS document from December 1991. As alleged in the indictment, this document "served as a blueprint for the take-over of power in municipalities and the creation of crisis staffs". Version A dealt with the manner in which power was to be taken in the municipalities in which Serbs were in the majority, while Version B dealt with the municipalities in which they were in the minority.
After the government commission submitted a report in the summer of 1992 on the existence of detention facilities for Muslims and Croats, the government issued a decision to close down those facilities, Antic said. He says he thought they were indeed closed down very soon. Although the seat of the Bosnian Serb government was in Pale, the former minister claims he never heard of the five camps for non-Serbs in this municipality of Sarajevo. Those camps are among the 400 detention facilities listed in the indictment against Krajisnik.
As today's session drew to a close, the prosecution began the cross-examination which will continue tomorrow.