Home
DEFENCE: "KRAJISNIK VICTIM OF INJUSTICE"
Defense presents opening statement at the trial of the former Bosnian Serb political leader charged with genocide and other crimes in BH in 1991 and 1992. The first defense witness takes the stand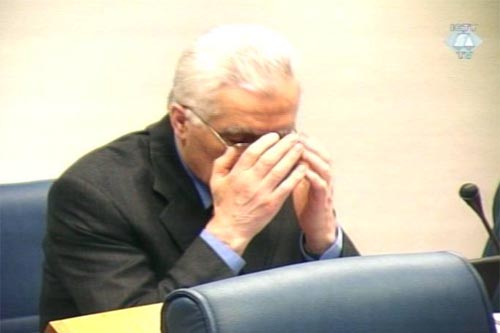 Momcilo Krajisnik in the courtroom
"The crimes in Bosnia and Herzegovina happened, and neither the defense nor the accused deny this," said Nicholas Stewart, Krajisnik's defense counsel, today as the defense opened its case. Noting that "Krajisnik will not be defending himself by denying that crimes happened," Stewart added that the former speaker of the Bosnian Serb Assembly had not taken part in the crimes and that he had not ordered them. He considers himself to be "a victim of injustice".
According to the defense, the prosecution failed to present sufficient evidence about the link between Momcilo Krajisnik on the one hand and the military, police and the municipal authorities in the territories controlled by the Bosnian Serbs on the other. "The fact that he was the Assembly speaker and a major political figure does not mean that he was criminally responsible," Stewart said.
The prosecution tried to blame the events linked with Radovan Karadzic, the defense contends. "Mr. Krajisnik knew Radovan Karadzic and that is not a sin," Stewart said, indicating that the accused would describe the nature of his relations with the former president of Republika Srpska in his testimony.
Krajisnik's defense counsel warned the Trial Chamber several times that their judgment in the Krajisnik's case must be based on facts and evidence, and that it must not be rendered under any pressure. Alluding that such pressure might be there and comparing Krajisnik's case to Saddam Hussein's, Stewart urged the judges to show courage and find the strength to deliver "a just judgment, even if its is different to what the political leaders in the world expect".
After Stewart's opening statement, the defense called its first witness. Nemanja Vasic, former president of the Prnjavor municipality, spoke at the beginning of his testimony about how the Serbs in that municipality had felt threatened on the eve of the war. This was particularly the case after the crime in the village of Sijekovac in late March 1992. He claims that weapons shipments arrived and were delivered to the Muslims in the surrounding villages in the spring of 1992. This only increased the fear and the sense of threat among the Serbs in Prnjavor. It is one of the thirty-odd municipalities in BH where the non-Serb population was subjected to persecution and other crimes Krajisnik is charged with in the indictment.
Nemanja Vasic's testimony will continue tomorrow.