Home
KRAJISNIK'S DEFENCE LAWYERS SEEK STAY OF PROCEEDINGS
The defence counsel for the former Bosnian Serb political leader ask for the stay of proceedings until the Appeals Chamber has rendered its decision. Krajisnik owes 180,000 US dollars to his defence team. The pre-defense conference has been scheduled for tomorrow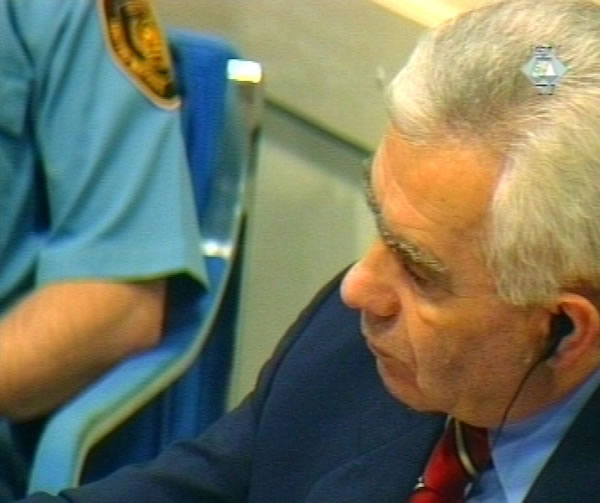 Momcilo Krajisnik in the courtroom
A week before the beginning of the defence case, scheduled to start on 3 October, Momcilo Krajisnik's lawyers filed a motion for the stay of proceedings until a decision is rendered on the appeal they filed last week. In the appeal, the ask for the quashing of the decision of the Trial Chamber, rendered in August, in which the Chamber ruled enough evidence had been presented about the responsibility of the accused to make it necessary for the defence to present its case to challenge all the allegations in the indictment.
The defence, nevertheless, considers that the Appeals Chamber could acquit Krajisnik on some, or even all, counts of the indictment, noting that it would be "unfair and impractical" to start the defence case before the issue of what charges remain and what charges the accused should answer has been settled. Krajisnik is charged with genocide and other crimes in Bosnia and Herzegovina in 1991 and 1992.
At the same time, Krajisnik's lawyers filed a motion to extend the deadline for the submission of their witness list, the summaries of their statements and the list of evidence they intend to tender in the course of their case. Among the reasons they cited for their failure to submit the documents on time are financial problems of the defence team. According to the Registry decision, Krajisnik should pay 9,589 US dollars a month to cover part of the costs of his defence. Yet, as the lawyers note in their motion, he has run up a debt of 180,000 dollars. This, his lawyers admit, "has had a substantial detrimental effect on the preparation and presentation of Krajisnik's defence."
The defence motions will certainly be discussed in greater detail at the pre-defense conference tomorrow.