Home
NEW DELAYS IN KRAJISNIK CASE?
One of the two arguments used by Krajisnik's defense in their motion to postpone the defense case dismissed. Judges will rule on the other argument later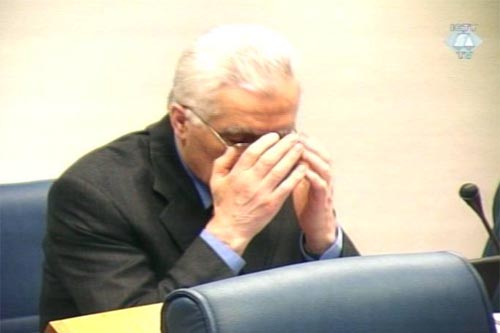 Momcilo Krajisnik in the courtroom
The Trial Chamber dismissed today the motion filed by Momcilo Krajisnik's lawyers for a stay of proceedings until the Appeals Chamber decides whether to acquit the accused on any of the counts of the indictment in which he is charged with genocide and other war crimes in BH in 1991 and 1992.
The defense filed an appeal against the Trial Chamber's ruling that the prosecution presented enough evidence on the responsibility of the former Bosnian Serb leader and that the accused should therefore present his own evidence to challenge all the allegations in the indictment.
At today's pre-defense conference, defense counsel David Josse said it would be "absurd and prejudicial" for the defense evidence to be presented before the Appeals Chamber has rendered its decision. "We believe that it is more than likely our appeal will be granted and it would be unfair to expect the accused to present evidence when it is not necessary to do so," Josse said.
Prosecutor Alan Tieger believes that the defense arguments on prejudice to the accused are "illusory". According to the prosecutor, the defense has not challenged the allegations in the indictment it now uses to seek acquittal.
The Chamber will rule later on the other request of the defense counsel – to be given more time to prepare properly for their case.
Krajisnik and his defense counsel list tight deadlines and lack of resources as the main problems in the preparation of their case. Although there have been talks with the Registry since March, no agreement has been reached on the amount to be given to the defense for the preparation of their case.
The defense case has been scheduled to start on 3 October, but if the Chamber rules in favor of the defense, this stage in the proceedings might be postponed.