Home
PROSECUTOR OPPOSES HARADINAJ'S POLITICAL ACTIVITY
Prosecutor moves that the judges postpone taking their decision to modify conditions of provisional release for Ramush Haradinaj until indications of witness intimidation have been investigated. The defense and UNMIK believe Haradinaj's presence in public life would promote stability in Kosovo. The trial of former KLA commanders will probably start in late 2006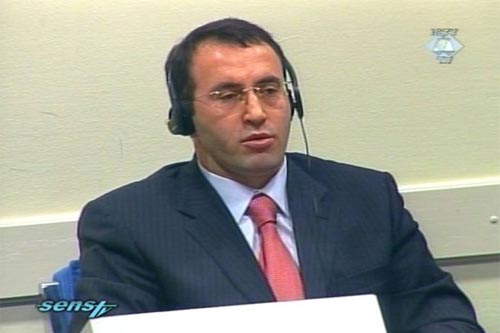 Ramush Haradinaj in the courtroom
The prosecutor does not want Ramush Haradinaj to be allowed to be politically active while he awaits trial. It would affect the safety of the witnesses and their willingness to testify at the trial in The Hague, the prosecutor alleges.
Haradinaj's lawyer filed a motion in August seeking that the conditions of provisional release of the former Kosovo prime minister be modified to enable him to express his political views and participate in the political life in Kosovo, while not holding any political office.
At a special hearing on Friday, prosecutor Moore noted there were indications that after his provisional release in June 2005 Haradinaj had taken part in attempts to intimidate witnesses. The prosecutor has yet to investigate those indications. He therefore asks the judges to postpone making any decision for a month, to give the prosecution time to investigate the indications.
The prosecutor also added that since June some witnesses had already decided not to testify and that others might decide not to cooperate with the OTP investigators if Haradinaj is given publicity.
Haradinaj's defense and the UNMIK representative at the hearing noted Haradinaj's positive role in the stabilization of Kosovo and maintained that his increased political activity would further contribute to it.
The judges heard the arguments but have not yet made any decision.
According to the current timetable, the trial of the three former KLA commanders, Ramush Haradinaj, Lahi Brahimaj and Idriz Bala, could begin in November 2006.
They are charged with the crimes committed in 1998 against Kosovo Serbs and Roma and against Albanians suspected of collaborating with the Serbian authorities in the Dukagjin operational zone. At their initial appearance in March 2005, they all pleaded not guilty.
Brahimaj's defense counsel announced today he would be seeking provisional release of his client. Brahimaj surrendered to the Tribunal voluntarily, as did Haradinaj. Unlike them, Balaj was transferred to The Hague from the Dubrava prison in Kosovo, where he was serving a 15 year sentence for crimes similar to ones the ICTY charges him with.