Home
HARADINAJ WANTS TO GO BACK INTO POLITICS
The defense of the former Kosovo prime minister announces it will be filing a motion to modify the conditions of his provisional release. The trial of Haradinaj, Balaj and Brahimaj may begin in January 2007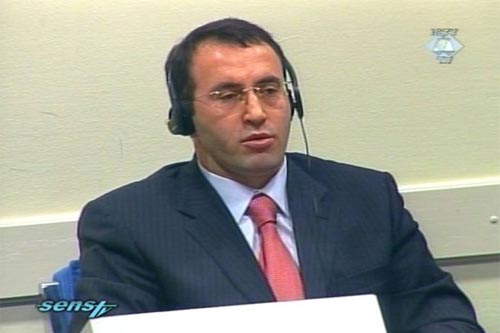 Ramush Haradinaj in the courtroom
The defense of Ramush Haradinaj announced today it would be filing a motion to modify the conditions of his provisional release, with regard to the political activities of the accused. Haradinaj is the chairman of the Alliance for the Future of Kosovo. Until he was indicted by the ICTY in March 2005, he was the prime minister of the Kosovo government.
In a decision dated 6 June 2005, granting Haradinaj's motion for provisional release pending trial, the Trial Chamber prohibited the accused from engaging in any kind of public political activity in the period of the first 90 days from the date of release. When this period ends, the decision notes, the Trial Chamber will re-examine the ban if the defense asks it to do so, and will take into account the conduct of the accused in the first three months of provisional freedom. It will also take into account the views of the prosecution and UNMIK. The defense announced today it would be filing such a motion in August, in order for a hearing to be set in mid-September, when the 90 day period expires.
The trial of Ramush Haradinaj, Idriz Balaj and Lahi Brahimaj may begin in January 2007, it was indicated at the status conference today. The parties estimate that it would last between 12 and 18 months. The three former KLA commanders are charged with participation in a "joint criminal enterprise", whose goal was to remove the Serbian civilians from the Dukagjini area and to prevent real or perceived collaboration of Albanians and Roma with the Serbian authorities - by dint of intimidation, abductions, arrests, torture and murder.