Home
PROSECUTION DECIDES NOT TO APPEAL AGAINST DECISION TO RELEASE HARADINAJ
Haradinaj can leave the Detention Unit as soon as all the formalities vis-à-vis the Dutch authorities have been done. They have to transfer the accused to the Amsterdam airport, where he will be taken into custody of the UNMIK representatives. They will be in charge of him until he returns to The Hague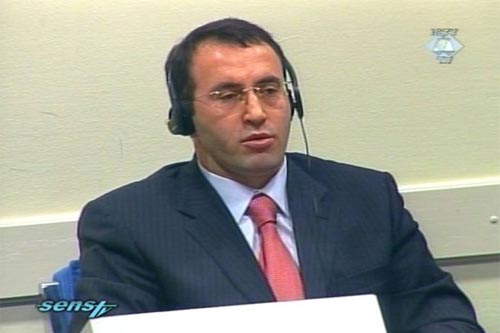 Ramush Haradinaj in the courtroom
In its opposition to Ramush Haradinaj's motion for provisional release last month, the prosecution sought that if the Trial Chamber decides to grant the motion, it stay the execution of the decision until the prosecution has considered whether to appeal or not.
The Chamber decided yesterday to grant provisional release to Haradinaj and stayed the execution for 24 hours. The prosecution had that time to decide whether it would file an appeal against the decision.
Having considered the decision rendered by the Trial Chamber yesterday, the prosecution decided not to appeal. This means that Haradinaj can now leave the Detention Unit as soon as all the formalities vis-à-vis the Dutch authorities have been done. They have to transfer the accused to the Amsterdam airport, where he will be taken into custody of the UNMIK representatives. They will be in charge of him until he returns to The Hague.
When he arrives in Kosovo, Haradinaj's movements will be restricted to Pristina and Glodjane, he will have to report once a week to a police station specified by UNMIK, will not be allowed to hold any function at any level of government and will not be allowed to discuss his case before the ICTY with anyone, including the media. The exception are his defense lawyers.
The erstwhile prime minister of the Kosovo government and former KLA commander has been charged with two of his subordinates, Idriz Balaj and Lahi Brahimaj, with persecution, detention and murder of Serbian and Albanian civilians in Kosovo in 1998.
Although the prosecution urged that the trial preparations should pick up pace, Haradinaj's British lawyer announced that the defense would not be ready to proceed to trial before the year 2007.