Home
PAVKOVIC COULD "TAKE THE MONEY AND RUN"
At the hearing on motion for provisional release filed by Nebojsa Pavkovic, the Serbian Government offers guarantees he would return for his trial, but the prosecutor noted his return was not at all certain in the light of the previous conduct of the accused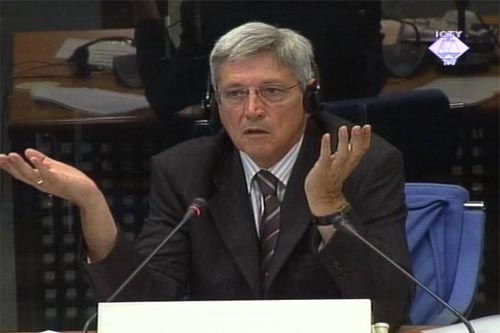 Zoran Stojkovic, representative of the Serbian government during the hearing on the provisional release of Nebojsa Pavkovic
General Nebojsa Pavkovic filed a motion for provisional release from the UN Detention Unit, but the prosecutor expressed qualms about his return to The Hague for trial.
Referring to the media reports according to which Pavkovic received substantial amounts of money in Serbia-Montenegro to agree to surrender to the Tribunal, the prosecutor said at the hearing today, "We are concerned whether he would appear before the Tribunal in the future, if he really did surrender because of the money. He could take the money and run." Pavkovic's previous statements to the effect that he had no intention of surrendering to The Hague also indicate there is a risk he might refuse to return to detention, the prosecutor said.
Pavkovic's lawyer John Ackerman, however, rejects such arguments. He claims Pavkovic did not receive any money in exchange for his surrender, and that his statements were inaccurately reported in the media. "What matters is that he surrendered voluntarily. One could say for many of those who have been provisionally released that they could have surrendered earlier," Ackerman said.
Justice Minister Zoran Stojkovic, representing the Belgrade government, gave oral guarantees to the judges that Pavkovic would be arrested if he refuses to return to detention. When the prosecutor asked him several times about Pavkovic's "surrender for money", he also said the reports were untrue.
While the presiding judge Patrick Robinson said, concluding the hearing, he took notice of the guarantees offered by the Serbian government that Pavkovic would return for trial, the prosecutor reiterated his concerns, noting that he would be less concerned "if the government had a better history of arrests" of the ICTY indictees.