Home
GENERAL OJDANIC WINS PARTIAL VICTORY IN DISPUTE WITH NATO
The Chamber granted two of three applications filed by General Ojdanic seeking binding orders for NATO and some of its member-states to produce documents. He considers those documents may be important for his defense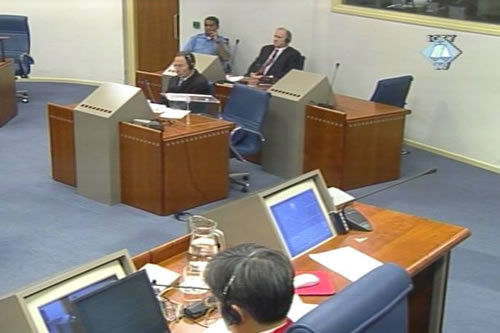 Dragoljub Ojdanic in the courtroom
The Trial Chamber has granted in part the motion by General Dragoljub Ojdanic in which he sought orders for the production of documents from NATO and some of its member-states. He considers those documents may be important for his defense.
The governments of the USA, Canada, Luxemburg, Iceland and the NATO HQ in Brussels have been ordered to produce to General Ojdanic's defense two of the three groups of documents they requested. Those are copies of recordings, transcripts, summaries or text of any intercepted communications (electronic, oral or written) between 1 January and 20 June 1999, in which General Ojdanic was one of the participants or in which his name was mentioned. The documents that are sought might show whether General Ojdanic knew about or was involved in the deportations or murder of Kosovo Albanians, whether the governments of Serbia or FRY respected the formal chain of command in Kosovo in 1999 and whether General Ojdanic took measures to prevent or punish crimes. General Ojdanic is charged with crimes against humanity in Kosovo, together with four other military and police generals (Pavkovic, Lazarevic, Lukic and Djordjevic) and two Serbian politicians (Milutinovic and Sainovic).
The Chamber denied the application regarding the third group of documents: reports, evaluations or comments by Western military attachés in Belgrade about the Speech General Ojdanic addressed to them in the summer of 1998, reports, evaluations and comments by General Wesley Clark, NATO commander at the time, about Ojdanic and his attitudes and powers, as well as all the information about Ojdanic submitted to the services of those states or the NATO HQ by general Momcilo Perisic from 28 November 1998 to date.
The Trial Chamber has give the governments of those states ad NATO twenty one days to submit any requests for protective measures, if they consider that the disclosure of any of those documents might be contrary to national security interests. If no requests are made by that deadline, the order for the delivery of documents will take immediate effect.