Home
NEBOJSA PAVKOVIC PLEADS NOT GUILTY
Retired VJ general Nebojsa Pavkovic, who arrived in the UN Detention Unit on Monday, pleaded not guilty today on any of the counts of the indictment, charging him with crimes against humanity and violations of laws and customs of war committed in Kosovo in the first half of 1999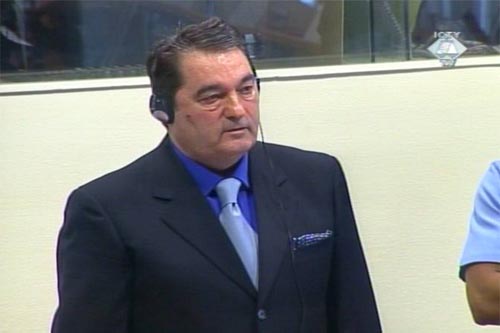 Nebojsa Pavkovic in the courtroom
"Mr. President, I plead not guilty." This is how General Nebojsa Pavkovic replied today when Judge Bonomy asked him how he pleaded to the five counts in his indictment, charging him with deportations, forcible transfer, murders and persecutions on political, racial and religious grounds.
According to the indictment Judge Bonomy outlined to him, General Pavkovic committed those crimes in the first half of 1999 in Kosovo, together with three co-accused: general Vladimir Lazarevic, who has also pleaded not guilty, general Sreten Lukic, who will enter his plea next week, and General Vlastimir Djordjevic, who is still at large.
The indictment against the four VJ and Serbian MUP generals, issued in October 2003, is virtually identical to the previous Kosovo indictment issued by the OTP against their political and military masters: Slobodan Milosevic – currently on trial – and Milan Milutinovic, Nikola Sainovic and Dragoljub Ojdanic – who have been provisionally released pending trial. General Lazarevic has also been provisionally released. They have all been charged with the deportations and forcible transfer of about 800,000 Kosovo Albanians and mass murders and persecutions of Kosovo Albanians on political, racial and religious grounds.
General Pavkovic today said he was "in good health now" and that he "pleaded with full awareness on the counts contained in the case IT-03-70-PT before this Tribunal". He did not have any objections to the accommodation and treatment in the UN Detention Unit.
"Quite the contrary," he added.