Home
DRAGOLJUB OJDANIC'S OPENING STATEMENT
It has been announced at the pre-trial conference in the case against six Serbian officials charged with the crimes in Kosovo that one of the accused, General Dragoljub Ojdanic will address the Chamber after the prosecutor's opening statement. The trial is due to start on Monday, 10 July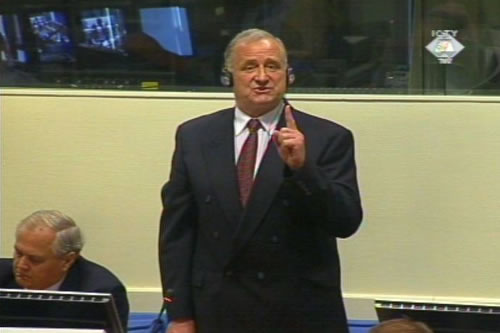 Dragoljub Ojdanic in the courtroom
On Monday, 10 July, after the prosecution delivers its opening statement, General Dragoljub Ojdanic will make a statement without taking the solemn oath, it has been announced at the pre-trial conference in the case against the six political, military and police officials from Serbia, charged with crimes against humanity in Kosovo in the first half of 1999. The then Chief of the VJ General Staff will say a few words about himself, about his state of mind and his views of the events described in the indictment, his defense counsel Tomislav Visnjic said.
After the opening statements by the prosecution and the general, the prosecution case will begin. The prosecution intends to call four witnesses by Friday, 14 July, when the summer recess begins. The witness list for next week contains the names of Sandra Mitchell, former director of the Human Rights Office in the OSCE mission in Kosovo, and Fred Abrahams, researcher from the Human Rights Watch. In 1998 and 1999, he took part in collecting of evidence documenting the violations of international humanitarian law in Kosovo. The next witness to take the stand is Goran Stoparic, former member of the Scorpions. He will be testifying about the murder of 19 Albanian civilians, mostly women and children, in Podujevo on 28 March 1999. They were killed by the Scorpions, which was part of the Serbian reserve police. After that, the court will hear testimony of Lirij Imeraj, an Albanian woman from Kosovo. On 26 March 1999, her husband, six children, mother-in-law and 11 relatives of hers were killed in the village of Padaliste, Istok municipality in Kosovo.
The prosecutor today announced the testimony of witnesses who would be testifying with the permission of the US government: among them are General Wesley Clark and Under-Secretary of State Nicholas Burns.
The accused Milan Milutinovic, Nikola Sainovic, Dragoljub Ojdanic, Nebojsa Pavkovic, Vladimir Lazarevic and Sreten Lukic returned to the UN Detention Unit this week. They had been released pending trial. Their case will be heard by the chamber consisting of Scottish judge Iain Bonomy, presiding, and two ad litem judges Ali Nawaz Chowhan, who was a judge in the Pakistani Supreme Court, and Tsvetana Kamenova, professor of international law from Sofia.