Home
GENERAL LUKIC PLEADS INNOCENT IN RECORD TIME
In just one sentence, police general Sreten Lukic pleaded not guilty on the counts of the indictment charging him with crimes against humanity and violations of the laws and customs of war, committed by Serbian MUP forces in Kosovo in the first half of 1999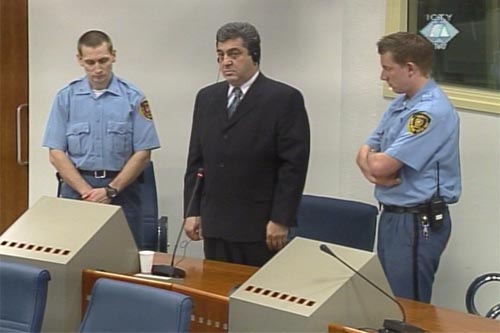 Sreten Lukic in the courtroom
After he opted at his initial appearance before the Tribunal on 6 April to postpone entering his plea, Serbian police general Sreten Lukic pleaded not guilty this morning on the charges levied against him by the prosecution. Since Lukic stated in the opening part of his further appearance today that he pleaded not guilty on all counts of the indictment, Judge Iain Bonomy did not insists on having the accused enter a formal plea on each of the five counts, as is the usual practice before the Tribunal. Lukic is charged with crimes against humanity and violations of the laws and customs of war. The judge ordered the registrar to record a plea of not guilty on all counts of the indictment. The hearing was over in less than two minutes.
Sreten Lukic has been indicted for deportation and forcible transfer of about 800,000 Kosovo Albanians in the first half of 1999, mass murders of civilians and the persecution of the Albanian population in Kosovo on political, racial and religious grounds. Three other VJ and MUP generals have been indicted for the same crimes. Two of them – Nebojsa Pavkovic and Vladimir Lazarevic – have surrendered to the Tribunal, while the third one, Vlastimir Djordjevic, is still at large. Last month, the prosecution filed a motion for the joinder of this indictment with the one against Milan Milutinovic, Nikola Sainovic and Dragoljub Ojdanic, who have been indicted for the same crimes.
Lukic's defense counsel, American attorney Theodor Scuder, announced at the hearing today that he would be soon filing a response on behalf of his client to the prosecutor's motion for the joinder of indictments.