Home
HALILOVIC HAD "INFLUENCE" BUT NOT "EFFECTIVE CONTROL"
Sefer Halilovic's defense will be trying to prove that he did not command the troops that participated in Operation Neretva '93 in which individuals serving in the BH Army committed crimes against the civilian population in two villages in Herzegovina. In his opening statement, Halilovic's defense counsel said the prosecution failed to do its job and prove its case beyond reasonable doubt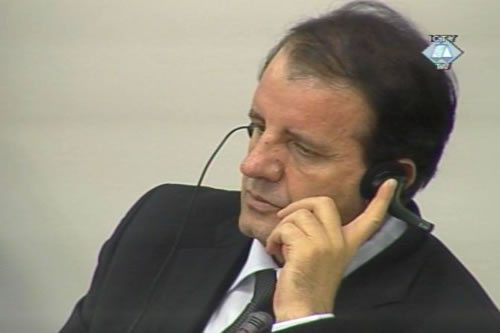 Sefer Halilovic in the courtroom
"The time has now come for the defense to start presenting its case, but paradoxically, the defense case is almost done." With these words, Sefer Halilovic's defense counsel opened his case. "The defense case will be brief and will focus on very specific issues," defense counsel Peter Morrissey said, noting that "the case against Sefer Halilovic is all about the view that was invented by the prosecution."
The defense will base its case on efforts to prove that Halilovic did not have "effective control", a phrase that was repeated several times by Morrissey. According to him, Halilovic did not have "effective control" over soldiers who committed the crimes in Grabovica and Uzdol. "As the chief of staff, Halilovic did not have an independent autonomous position in the chain of command, but he had the right to issue certain orders as he was authorized to do so by his superior. The prosecution has failed to prove that he commanded any operation," the defense claims.
The influence Halilovic had over the Tenth and the Ninth Brigade and the Independent Prozor Battalion does not equal effective control, in the defense's submission. .
The defense will be focusing on the crime in Uzdol, Morrissey said, because "there are holes in the prosecution case and they have achieved very little." The defense wants to prove that there was an armed conflict in Uzdol because the civilians in the village were armed or had access to arms. Morrissey claims there is ample evidence clearly indicating this, and the fact that the entire incident was manipulated for propaganda purposes. When it comes to Grabovica, "there is very little evidence". The defense will rely on the exhibits that have already been admitted to contest the prosecution allegations.
"It is important to show Sefer Halilovic's character, because he advocated a multi-ethnic military and a multi-ethnic Bosnia," the counsel said, indicating what some of the witness testimony will be about.
"In conclusion, I can say that the prosecution has failed to prove what it indicated it would, it failed to do its job. We will present evidence that will make this even more obvious," Peter Morrissey concluded.